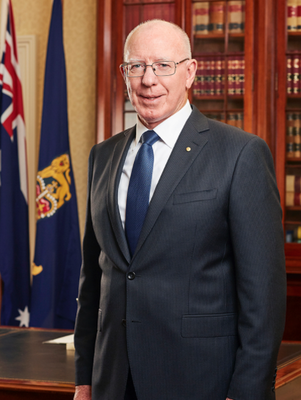 A Senior Sheriff Officer who fended off an axe-wielding man in Cranbourne has been commended for his bravery.
On the afternoon of 21 June 2017, Stuart Couch and a colleague went to a house to execute a civil warrant.As there was no one home they began to move towards their vehicle when a man drove into the driveway. Mr Couch and his colleague approached the driver who became agitated. The man went into the house, with Mr Couch and his colleague remaining on the front porch.
The man returned wielding a large axe over his head. As he advanced, Mr Crouch, fearing for the safety of his colleague, pushed the male in the chest and told his colleague to retreat. The man refused to drop the axe, and Mr Couch struck him with his baton, but to no effect.
As the offender raised the axe again, Mr Couch grabbed the weapon and again hit the man with his baton.
The offender struck him on the head with the axe, however Mr Couch was able to disarm the man who ran inside the house.
Mr Couch called police who arrived soon after and arrested the man.
For his heroic efforts, Mr Couch has been recognised by the Governor-General after receiving a commendation for bravery in the Australian Bravery Awards.
The awards recognise the courage, sacrifice and selflessness of the recipients.
"As we face the huge challenge of the COVID-19 pandemic, it is important to set aside time to celebrate these individuals and take inspiration from the example of selflessness that they set," the Governor-General said.