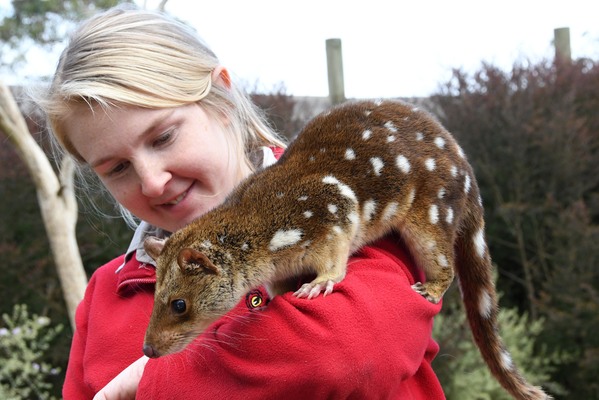 By Brendan Rees
Pearcedale's popular Moonlit Sanctuary has temporarily closed as a precaution against the Covid-19 outbreak however staff will continue wildlife conservation work while the gates are shut.
The wildlife park closed its gates on Wednesday, 25 March to help stop the spread of Coronavirus.
The park's director Michael Johnson said it was a hard decision.
"Unfortunately, the instructions aren't very unclear; we're certainly not mentioned either as an essential or non-essential so you're sitting in the middle not knowing," he said.
Mr Johnson said the sanctuary, which has been the recipient of multiple conservation and tourism awards, had "no problems" complying with the one person per four metre square rule, but it was an "industry decision" to close their wildlife parks to help stem the spread of Coronavirus.
The announcement comes just days after Zoos Victoria made the decision to close Melbourne Zoo, Werribee Open Range Zoo and Healesville Sanctuary.
With the likelihood of the State Government to introduce further stricter shutdown measures, Mr Johnson said it was not known when the Pearcedale Sanctuary would review its closure.
"We've got no indication at all," he said. "We'll just see what happens next."
"We'll have keepers here right through and they will be caring for the animals and doing our conservation work which of course is very important."
The park had been hit hard by the pandemic, he said, and once they saw a drop in international tourists – which is its biggest source of revenue – he had little choice but to lay off staff.
"It's been pretty hard for people … if we keep everybody on; keep our expenses where they were – we'd be out of business very soon," Mr Johnson said.
"We'll try to support them in any way we can. Hopefully we can get them back on board very quickly.
"It's just one of those situations, it's very uncertain."
Mr Johnson said the park was gracious for the "wonderful" messages of support they had received on their Facebook page.
Star News has began new a 'Shop Local' campaign to help businesses in the region stay afloat during the crisis.
While the park may be closed, Mr Johnson has encouraged people to buy gift certificates online at any value – to ensure the park's survival.
"They don't have an expiry date so they can use it any time after we open."