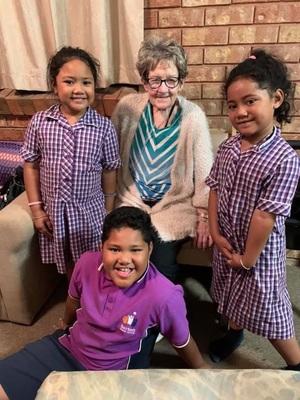 Small acts of kindness can get lost in times of crisis. The Sasa family of Cranbourne share their heartfelt story after rescuing an elderly woman who was left stranded at a shopping centre, reports BRENDAN REES



Miriama Sasa had just picked up her kids from school when she got a call from her husband to help an elderly woman battling to breathe.
Her husband, Paul Sasa, was on shift as a security guard at Cranbourne Park Shopping Centre when he came to the aid of a distressed 76-year-old woman on Friday afternoon, 13 March.
The woman, who walks with a frame, was fighting to breathe as her oxygen tank was running low.
Mr Sasa spoke with the woman – before strict social distancing rules came in during the Coronavirus crisis – and found a phone number on the tank and organised for a replacement cylinder to be sent to her home.
The woman, who had caught a taxi to the centre, was too overwhelmed and exhausted to go home alone – which prompted Mr Sasa to call his wife about the woman's ordeal.
At this stage, Mrs Sasa was on her way to the supermarket with her four kids, some still in their school uniforms.
"He told me just to drop everything and come over and help this lady," Mrs Sasa said.
With her kids in the car, Mrs Sasa, a disability support worker, drove the woman home where they stayed and kept her company for a few hours.
They exchanged phone numbers and have maintained regular contact including FaceTime calls which the woman conducts with Mrs Sasa "and kids all the time now" as well as spending time together over dinner.
Mrs Sasa, who was born in Samoa, said it was part of her culture to help the elderly: "That's what my husband did what he did; that's how we've been taught."
Since her heartbreaking experience, she has shared her story on Facebook in the hope to inspire others.
"It doesn't cost much to show kindness; our kids have learnt a lot from her experiences. We have made a new best friend forever," she said on the post.
"The saddest thing today was she was using Pine O Cleen we use to mop the floors as hand sanitiser, she said she couldn't find any anywhere. So tomorrow we're on a mission to find her some hand sanitiser."
When asked how Mrs Sasa's family was coping with the Covid-19 crisis, she said: "At this stage we're OK … we believe in our faith. I know that I believe we're going to get through this."