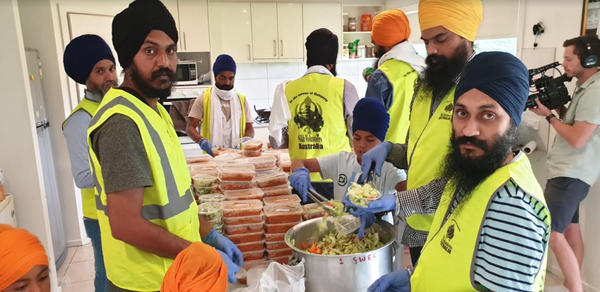 By Brendan Rees
In a time of crisis, a group of kind-hearted Sikh volunteers have banded together by delivering free food to people's homes.
The Sikh Volunteers Australia – a not-for-profit organisation based in Devon Meadows – are offering free food with home delivery services for the next two weeks to those in need due to the Coronavirus pandemic.
The charity's vice president, Manpreet Singh, said since starting the service on 18 March, the volunteers had responded to 300 orders on the first day which was backed up by 460 meal deliveries the following day.
"We have a few categories; we are not giving the food to everyone," Mr Singh explained.
"We are giving to those people who are directly or indirectly affected by this virus especially disabled people, aged people who can't go shopping and they have to stay home," he said.
He said they were also helping single mums, families who had recently returned from overseas, people experiencing homelessness, and those who had lost their jobs.
The service was also targeting people who are in self-isolation across the south east with Mr Singh saying they had received three calls from people who had contracted Coronavirus.
The home deliveries were in addition to the Sikh volunteers' weekly free food van which has been increased to three times a week during the crisis – where they provided 130 meals in one night after setting up their van in Frankston and Tooradin.
Those grateful for the service have taken to social media sharing their heartfelt admiration for the selfless volunteers.
"Thank you for your kindness. Hearts of pure love," one posted.
"You are simply wonderful humans – thank you for what you do," another wrote.
The food menu announced on social media includes gluten free pasta, veg soya curry, chickpea curry, veg korma and fresh salad.
The Facebook advertisement said volunteers would deliver meals to people in Cranbourne, Tooradin, Hampton Park, Lyndhurst, Lynbrook, Junction Village, Devon Meadows, Narre Warren, and Berwick.
Last December the Sikh Volunteers responded to the bushfire crisis by providing free meals to thousands of people at a relief centre set up at the Bairnsdale football oval.
Meanwhile, Prime Minister Scott Morrison announced on 18 March for Australians to "stop hoarding" food supplies at supermarkets, labelling the behaviour as "un-Australian" and "not sensible".
"It is not helpful and it has been one of the most disappointing things I have seen in Australian behaviour in response to this crisis," Mr Morrison said at the press conference at Parliament House, adding the government could impose limits if the panic buying continued.
"Stop hoarding. I can't be more blunt about it. Stop it," he said. "There is no reason for people to be hoarding supplies in fear of a lockdown or anything like this."
Twenty-nine new cases of Covid-19 were confirmed on 18 March bringing the total number of cases in Victoria to 150.
The new cases include 17 men and 12 women, with people aged from their early twenties to their early seventies. The Department of Health and Human Services is continuing to investigate all new cases.