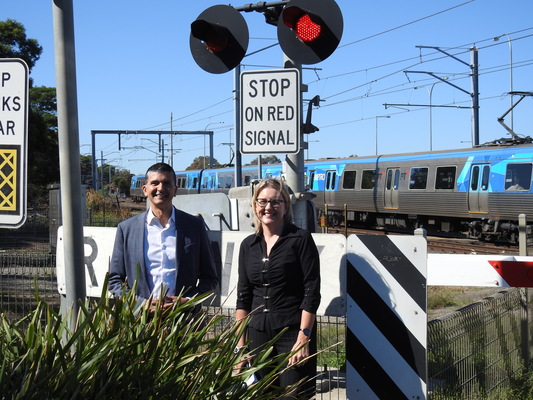 By Brendan Rees
Long-suffering rail commuters will have some reprieve as duplication works on the Cranbourne line get underway – though they won't be complete until 2023.
Transport Infrastructure Minister Jacinta Allan announced on Monday 16 March that new contracts had been awarded as part of the Cranbourne Line Upgrade including removing the Greens Road level crossing, building a new Merinda Park Station, and duplicating eight kilometres of track between Dandenong and Lynbrook.
Ms Allan said site establishment works were beginning "straight away" with the project set to pave the way for the future extension of the line to Clyde.
"Obviously we'll need to try and minimise service disruption. There's a bit of a nice wide corridor there so we can do a lot of the track work to the side of the existing track," she said.
The upgrade will allow more trains, more often on the Cranbourne Line, with services running up to every 10 minutes on fully duplicated track.
Together with the Metro Tunnel and new high-capacity trains, the project will create capacity for 121,000 extra peak hour passengers every week on the Cranbourne and Pakenham lines.
The project will also build new rail bridges over Greens Road, Eumemmerring Creek and Abbotts Road in the busy Dandenong South area – as well as rebuilding Merinda Park Station to accommodate the dual track – with two platforms, better weather protection and an improved layout for better passenger connectivity.
Removing the single-track bottlenecks that restrict Cranbourne line trains will ease congestion and improve safety in one of the state's most significant residential, industrial and employment areas.
Work is also continuing on the new road bridge and removal of the Evans Road level crossing in Lyndhurst, with the bridge foundations underway in preparation for concrete beams spanning the rail line to be installed mid-year.
However, State Shadow Minister for Transport Infrastructure, David Davis said the State Government had done a "half-baked job" by not extending the railway line from Cranbourne to Clyde.
"The Clyde extension is critical and despite committing to it in 1999 and 2002 and being in Government for 17 of the last 21 years, Labor have taken the people of Melbourne's south east for granted," he said.
Meanwhile, Ms Allan also announced the Clyde Road level crossing removal project in Berwick has been expanded to upgrade the bus interchange at Berwick railway station to make it safer and reduce travel times.
The interchange will be relocated to the south side of the station with works set to start soon.
It's also set to reduce the number of buses travelling along Gloucester Avenue, Reserve Street and other local roads.
The project design has also received an update after taking community feedback into account – and will now maintain access to Jane Street and Reserve Street and install a new u-turn north of Gibb Street, benefitting local residents, businesses and emergency services.
The community is invited to drop-in sessions at Federation University on 30 April and 1 May, where there is an opportunity to speak with the project team and view the latest designs.