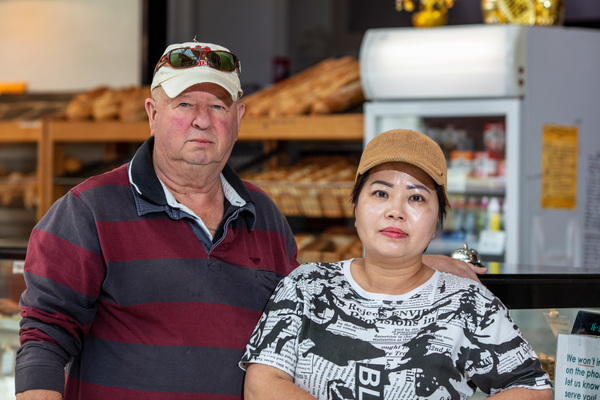 By Brendan Rees
Clyde firefighters have been left gutted after heartless thieves made off with their fire helmet used to collect donations at a shopping centre.
The wildfire helmet had been gathering donations for the bushfire appeal when it was snatched from underneath the counter of That Bakery at Shopping on Clyde shopping centre in Cranbourne East.
It's believed the thieves struck sometime between 6pm Friday 31 January and Monday morning, 3 February – despite the helmet being chained to the counter.
"They've obviously gone in there with a small spanner and undone that," Clyde firefighter Ian Earle said.
"Whether they've gone behind the counter to see the fridge was open and seen it or they knew that the helmet was there we don't know".
Mr Earle said it's believed a small amount of money was in the helmet at the time as he had emptied it just days prior to the theft, where hundreds of dollars was collected.
The helmet – which had a hole cut in the top for people to donate – had been placed on top of the bakery counter for the past three months after staff offered a helping hand following the bushfire tragedy.
The brigade has reported the theft and police have launched an investigation.
There was no CCTV footage was available as staff had turned their cameras off after closing at night.
Mr Earle said the brigade's "biggest concern" was for the thieves to set up the helmet elsewhere and trick the public into donating.
"We don't want people to be conned by it," he said, adding the yellow helmet had red lettering on the sides if people recognised it.
He added staff had assumed brigade members had taken the helmet to empty it of donations.
Mr Earle said the brigade was devastated by the low act: "It doesn't matter if it's the CFA or the Red Cross or SES; the money goes back into the community as much as possible".
"It's not just against the organisation – it takes away from the whole community".
Cranbourne Police have been contacted for comment.