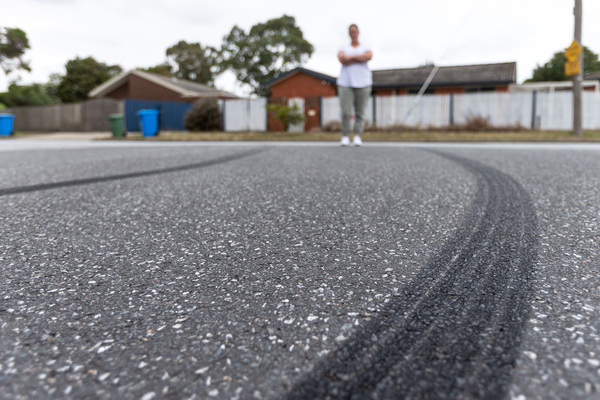 By Brendan Rees
Fed-up Cranbourne residents say it's just a matter of time before a hoon driver loses control of their car and ploughs into their homes.
The neighbours who live on Valepark Crescent say they are frustrated with louts regularly doing burn-outs and have called for the reckless behaviour to stop.
Mother of three Rebecca, who wished to withhold her surname, said she feared for her family's safety.
"We are petrified one day someone is going to come through our front fence," she said.
"Sometimes it's during broad daylight and times when kids could be outside playing.
"The situation that's around you can change; there can be grease on the road, there can be a slippery spot, you just don't know."
Rebecca said a traffic calming device – being a strip of concrete on the median – did little to deter hoon activity and pointed out a number of rubber marks on the road to Star News – with one about 30 metres long.
Rebecca said she had seen a matt black Ford with no number plates terrorising the neighbourhood.
"It's not always necessarily the same person," she said, adding the hoon activity happened up to five times a week.
She said the culprits had "rocks in their head" in they thought they had control of their vehicle.
"A couple of times that we have called police … they did come," she explained, who "couldn't get over the length" of one burnout.
"They need to put something at the corner of Valepark and Wallis where those two streets meet so they can't come flying around that corner."
Another nearby resident, Shirlee, surname withheld, said she felt "uneasy" about the hoon drivers.
"It's not like the cops can do anything anyway. By the time I get up and get to the door they're gone; all you see is smoke," she said.
A resident of 12 years, who asked to withhold her name, said cars often conducted drag racing one to two times a week in their usually quiet street.
"There's a lot of smoke in the air too and they go for a good two minutes," the resident said.
Others say they can't sleep due to the noisy hoon driving which was "always going on" and "not good for safety."
Casey Highway Patrol Sergeant Russell Bratton said police had a zero tolerance towards hoon behaviour and were conducting more operations in the area.
"We're impounding more vehicles than ever before," he said.
"The best thing is for people to report it as much as possible so we can start gathering the intelligence so we know where it's happening," Sgt Bratton said.
"The more information the better, we can actually have more operations focussed on the key times so we can have maximum enforcement."
He added Operation Sumatra, which operated in Dandenong, would be expanded to Casey and Cardinia to target hoon behaviour.