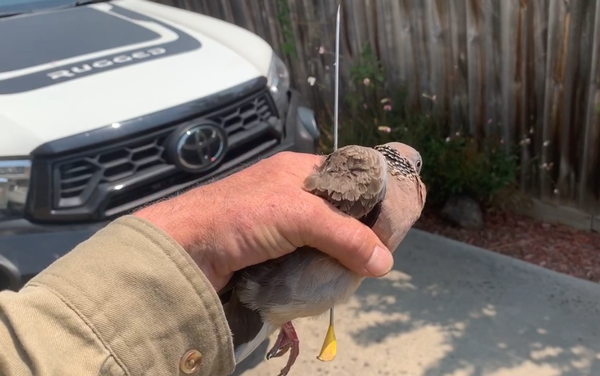 By Brendan Rees
A dove has been put down after being shot with a blow dart – in an attack animal rescuers have described as a "barbaric act".
Nigel Williamson of Nigel's Animal Rescue was called to Ardmore Street in Cranbourne about noon on Saturday 18 January where he found the badly injured dove in a garden.
Mr Williamson assessed the dove which he said appeared to have been shot in the stomach with about a 10 inch blow dart – with more than half it protruding through the dove's back.
"We then proceeded to capture the bird which we did successfully as it tried to fly away as it was still able to fly," he said.
The poor dove was rushed to Casey and Cranbourne Veterinary Hospital but sadly had to be euthanised.
Mr Williamson said the bird was a turtle dove which was not native to Australia.
"If it was a native bird we possibly could have saved it … we did actually have wildlife people wanting to take it but it was after the event," he said.
"I believe the bird would've been up on a branch in the tree with the angle that the dart had gone through from below the bird.
"It had possibly been there for some time because the yellow section on the blow dart had been damaged and scrapped on the ground as the bird had been landing on the ground."
It wasn't the first time Mr Williamson had seen such a horrific incident.
"I've been involved in animal cruelty for 30 years now so nothing surprises me to what humans can do to animals. Absolutely it's a barbaric act of an innocent animal," he said.
Mr Williamson said he believed a "professional dart" had been used which he likened to a hypodermic needle.
"It is heartbreaking for sure … we're just trying to find anybody with information." he added.
Mr Williamson reported the incident to Barrie Tapp of the Animal Cruelty Hotline, which he described as a "despicable act."
"This appears to be a blow dart and the Cranbourne police is to be notified as a dangerous and illegal weapon has been used and could harm people," he said.
The maximum penalty under the Victorian Prevention of Cruelty to Animals Act is an $82,610 fine or two years imprisonment.