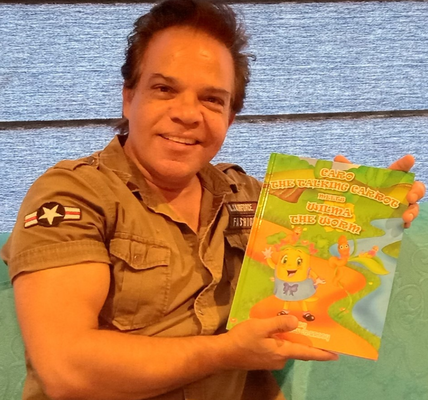 By Brendan Rees
Healthy eating is at the centre of Pastor Kerrigan La-Brooy's new children's book, 'Caro the talking carrot meets Wilma the worm'.
Mr La-Brooy, a Senior Pastor of Gethsemane Church in Cranbourne, who was recently presented the Leadership Award at the 2019 Victorian Premiers Volunteer Champions, says his book will instil a sense of "belief and guidance" in children during impressionable years when faced with body image issues.
"The character is instantly endearing," Mr La-Brooy explained. "The storyline is informative and educational with a conscious emphasis on children's health and well-being while simultaneously capturing the imagination of the child and bringing light-hearted entertainment to even the adult reader.
"With today's strong awareness directed at body image and the perception that to be beautiful you have to be slim, which sadly results in young ones succumbing to peer pressure even to the extent of starving their way to acceptance, this series makes a subtle difference," he said.
Mr La-Brooy, who teamed up with an illustrator from Canada named Izabela Ciesinska, said the book was published through his own publishing company, 'Kerrigan Publishing' founded in early 2008.
He had initially signed with a US based company but had to withdraw his contract due to a "major postal oversight".
The story follows Caro 'the talking carrot' who reveals from the opening lines that 'being too skinny is not a good thing.'
"It distracts from the common cliché and establishes that the main character does not have to be slim and tall or even good looking. If children are encouraged to adapt to the character and hopefully fall in love with Caro, it will at the very least, inspire them to take pleasure in their vegetables," Mr La-Brooy said.
"We as adults can teach them, albeit at an early age, the importance of healthy eating and dismiss the misconception that being slim is essentially all that matters," he added.
Mr La-Brooy said 50 per cent of proceeds from the sale of the book will go towards Gethsemane Church and Charity.
Mr La-Brooy was also invited to the Monash Children's Hospital in collaboration with Starlight Foundation on Author's Day to read his book and also to sing and play his guitar.
The book costs $20 which Mr La-Brooy says "is a lifetime gift to give any child."
To order copies of the book contact the author on 0404 875 647.