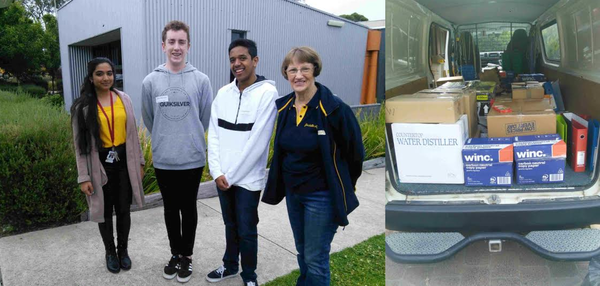 By Brendan Rees
Students of St Peter's College have been busy sorting through boxes of donations to help provide educational support for children in Papua New Guinea.
Each year the school encourages families not to bin any of their unrequired school resources as it aims to reduce landfill waste while supporting the learning needs for Papua New Guinea school children.
Students, with the support of staff, have been unpicking the boxes containing books and stationary they they are shipped to the remote region of Kimbe to enhance the learning opportunities for students.
Barbara Corkeron, president of Kimbe Assistance Project praised St Peter's College for their "wonderful collection" of donations.
"Once again we wish to thank the St. Peter's College community for the wonderful collection of excess stationery donated to The Kimbe Assistance Project Inc," she said in a letter of appreciation to the school.
"We are particularly grateful because the recent decision by the Papua New Guinea Government to reintroduce fees for all school students will place a tremendous burden on families that have few opportunities to earn cash remuneration," the letter read.
"Many of the areas within the Kimbe Diocese are subsistence agricultural communities. The gift of school stationery will help to reduce the financial burden on these struggling families.
"The quality of the recovered resources this year is outstanding. The effort put into sorting and packing made it a lot simpler to load into our vehicle."