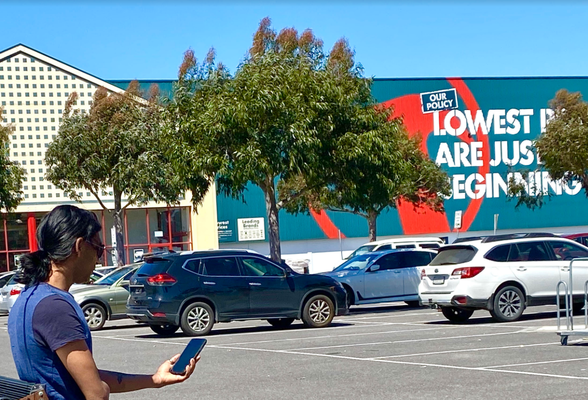 By Brendan Rees
A man has been punched in the stomach and robbed after trying to sell his mobile phone to a stranger in a Bunnings carpark in Cranbourne North.
Vin, who did not wish to reveal his surname, had advertised his iPhone XS on Facebook Marketplace.
He said a man expressed interest in buying the phone and arranged to meet him at the Bunnings Warehouse carpark on Tuesday, 16 October.
"Everything seemed alright, he was asking me all the right questions," Vin said.
"I did a video for him to assure him I was legit as well. He said 'yeah cool, sounds good' and we agreed on $1450."
The pair met, shook hands and the prospective buyer, who went by the name of Darren, appeared respectful, Vin explained.
"I didn't have a charger with it so I gave him one … and a brand new set of head phones that came with my upgraded phone.
"He said 'How much did we agree on again? And that's when I clicked; we agreed on $1450 and then that was it, he punched me and then ran.
"I was a bit startled because I didn't expect it," Vin said, adding "It hurt my ribs but it wasn't a hard punch.
"I jumped into my car and chased him around the Bunnings carpark and then I caught up with him around the corner."
At this stage Vin said the man had met up with another male near the loading docks.
"I went on the gutter and tried to block them in with my car.
"There wasn't anything I could do, I wasn't going to get out of my car because there were two of them," he said.
The pair jumped a nearby fence and began taunting him.
"As they were walking away they were laughing and putting their middle finger up, and calling me a faggot. I burst into tears, what could I do?
"I was put through hell in high school. It just re-triggered everything from high school … it keeps replaying in my head."
Vin has started a petition on change.org calling for tougher sentencing of offenders.
"There is no justice in the Australian justice system. The police do their job and the system lets us down. We need to make changes to the system," the petition says, which has attracted nearly 400 signatures.
The man is described as being of Middle Eastern appearance, five-foot-10 in height, stocky build, short hair and aged between 16 and 19 years.
The second male is described as African appearance, slim build and about 16 years old.
Police are appealing to witnesses and have released a CCTV image of a man they believe may be able to assist with their enquiries.
Anyone with any information is urged to contact Crime Stoppers on 1800 333 000 and quote the media unit reference number 83346.