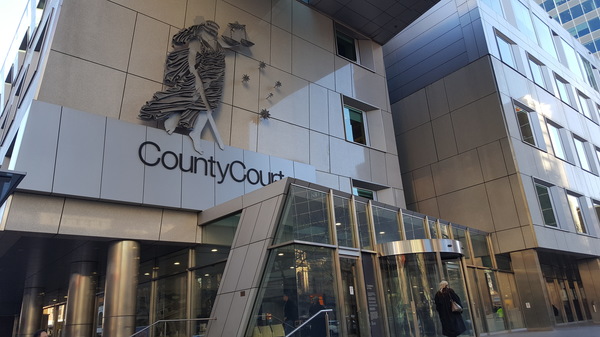 By Cam Lucadou-Wells
A convicted paedophile "inveigled" his way into a South-East junior football club as a trusted sponsor and sexually assaulted a 12-year-old boy in 2008, the County Court of Victoria heard.
Hugh Lean, 66, pleaded guilty to the indecent assault of a child – after initially denying the attack in the boy's bedroom.
He also pleaded guilty to four counts of breaching his sexual offender reporting obligations.
Between 2012-'16 Lean failed to report to police that he was involved with the junior football club and that he was using the alias 'Aaron Smith'.
In 2008, Lean sponsored the juniors with $1500 a year for jumpers, footballs, pizzas and other meals. Childless, he falsely told members that it was in tribute to his son who died in a car crash and had loved football.
It gave him "special status" at the club, Judge Felicity Hampel said during sentencing on 28 October.
The "considerable grooming" included Lean befriending and drinking with the victim's father at the family home.
Over the 2008 season, he occasionally slept over at the victim's home after drinks, was entrusted to drive around the family's children and to get them treats at McDonald's.
The victim had thought Lean was "cool", Judge Hampel said.
On the night of the assault, Lean was invited to sleep on the children's bedroom floor.
The victim woke up that night in his bed "where any child should feel safe" – in a headlock and with Lean's hand over his mouth, Judge Hampel noted.
Despite the boy's resistance, Lean overpowered him and indecently assaulted him.
Lean stopped only after another child got up to go to the toilet. The victim struggled free of Lean's loosened grip.
While the boy was too scared to sleep, the accused later crawled onto his bed. Lean threatened him not to tell anyone or he'd "come back for you".
Nine years later, the victim reported the incident to police out of a desire to stop Lean from harming another child.
After the assault, he had led a troubled, angry adolescence, stopped playing football and disengaged from school. He was unable to tell his parents for many years, the court heard.
Even as an adult, the victim had regressed to panic attacks and anxiety – like a "frightened child" -when he encountered Lean.
"I felt like he took a lot of me that night," the victim stated to the court.
"My innocence was lost that night. I lost trust in my elders."
At the time, Lean had already been jailed in 2002 for rape and indecent act with another 12-year-old boy.
A psychologist in 2002 had assessed Lean as not a paedophile. He had no sexual interest in boys, the psychologist concluded.
"How wrong that was," Judge Hampel said.
In late 2008, Lean was placed on a 24-month CCO – including sexual-offender treatment – for soliciting a sexual service with a 14-year-old boy.
Judge Hampel noted Lean's neglected childhood brought up by alcoholic parents, as well as his "lonely and isolated life" since.
His rehabilitation prospects were "guarded" despite his remorse, early guilty plea and no subsequent "contact" offences.
Lean had only recently acknowledged he was abused as a child, and that he indeed was sexually attracted to boys, Judge Hampel said.
She recommended for Lean's eventual release on parole, including a sexual offenders program.
Lean was jailed for up to six-and-a-half years with a four-and-a-half year non-parole period. His term included 122 days in pre-sentence detention.
Prior to the hearing, Lean was already required to report as a sexual offender for life.