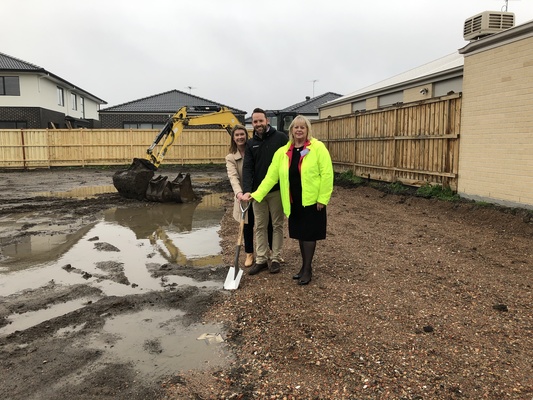 By Danielle Kutchel
An innovative partnership between property developer Wolfdene and Blairlogie Living and Learning Inc. is aiming to address the shortfall in dwellings for adults with a disability.
Dubbed 'PROJECT 28', the project aims to help close the gap of 28,000 dwellings Australia wide by constructing 28 units by 2028.
The shortfall includes a large number of people currently using the services of Blairlogie, which is based in Cranbourne.
Starting with the delivery of four independent dwellings in its 'E>ST' development in Cranbourne East, Wolfdene, through its Wolfdene Foundation, is providing seed capital for the acquisition of land, planning, design and construction of the project.
On Tuesday 13 August City of Casey mayor Amanda Stapledon and representatives from Wolfdene, Blairlogie and their project partners celebrated the official start of the project with a formal sod turning ceremony.
Cr Stapledon is supporting the project through her Mayor's Walk for Disability next month, with all proceeds from the walk being donated to the project.
She said she couldn't wait to begin raising money for the project.
"Currently, there are thousands of Australians with a disability who are forced to live in unsuitable homes because there are no alternatives, however the establishment of this initiative will help address this problem that is faced by so many," Cr Stapledon said.
Four young men in their 20s will be moving into the houses when they are completed. All four have diagnoses of autism and some significant complex behaviours that require specialist support.
Currently, adults with disability can find themselves living in an aged care facility, hospital, or even a motel or hotel – none of which are permanent, long-term or comfortable solutions. There is no guarantee they will receive a government home and if they do, it could be far away from family and social networks.
"You can imagine how disruptive that is for people with disabilities and their families," Wolfdene director Jonathan Atchison said.
"This gives comfort. These four residents and their families now have the comfort of knowing they're just down the road and families can see them any time, and they have a forever home."
Blairlogie CEO Carolyn Carr said the sod turning was the culmination of two years of planning.
"When I was standing there on Tuesday, despite the cold and drizzle, it was just so incredible to be there and see it finally happening after the massive amount of work that's gone in by so many people.
"It takes a lot of people to come together with unwavering commitment, passion and intent to be part of a solution," she said.
Construction on the first four properties will commence immediately with the aim of delivering the houses by April 2020.