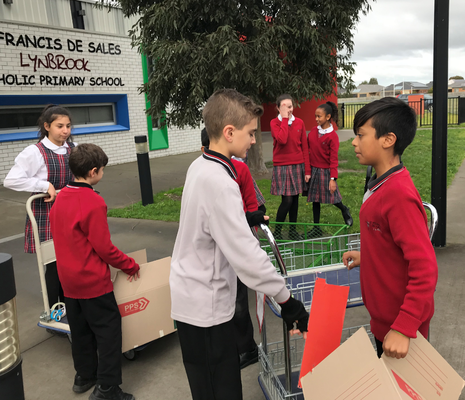 By Brendan Rees
Lynbrook's St Francis De Sales Primary School has collected baskets of food to help the needy.
During term two, students gathered about 800 food items for charity organisation St Vincent de Paul in Hampton Park.
"It was a great achievement," students Alicia and Madison said.
"We helped them load the cars and this food will now be distributed to the people in need within our community,"
The food was collected in four coloured baskets representing each of the school's house teams.
The initiative was part of the Mini Vinnies program, where students aim to increase social justice awareness and fundraise for those in need.
On the 28th of June St Francis De Sales' Grade 5/6 Mini Vinnies action team participated in Dandenong's St John's Regional College Make a Difference (MAD) day.
The students walked five kilometres before taking part in a liturgy and announcing they had raised a total of $370.
The money will go towards Wellsprings for Women in Dandenong and the Lasallian Foundation which is developing schools for children in Pakistan.
Students Keava and Isabella said they had much deeper understanding of how they could make a difference to people's lives both in the community and overseas.
"As the Social Justice Action Team it is our responsibility to develop actions that will help as many people as we can and be able to live with dignity and life's essentials such as food, shelter and education," they said.