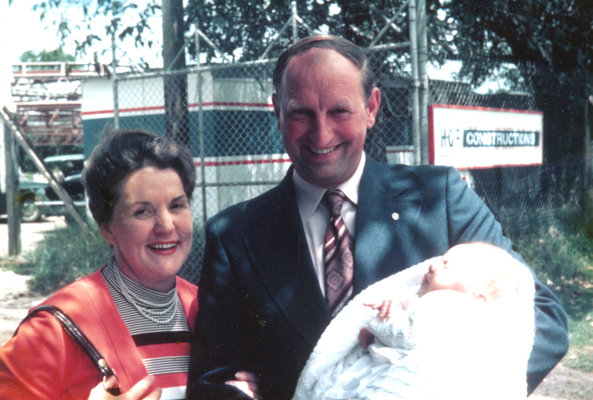 Cranbourne Rotary Club has paid tribute to "one of nature's gentlemen" who passed away earlier this month.
Ern Marriott passed away on Tuesday the 4th of June. He was a member of the Cranbourne Rotary Club and was well liked and heavily involved as a member.
Mr Marriott served in many committees for the Rotary Club: he was a charter member of the Club and was president from 1978 to 79.
He was an inaugural member of the Cranbourne Scouts, being a leader from 1955 – 1967.
In 1964 he was asked to stand for the then-Shire of Cranbourne Council and served two terms. During his tenure he was elected Shire President, and in 1973 he was elected in to Council again and served for another 12 years. Mr Marriott served as president again in 1976 – 77, and also had the honour of laying the foundation stone for the newly-built Cranbourne Shire Office (now a medical centre). A fellow Council member remembers Mr Marriott and his wife Val bringing their newly born daughter Mary to many council events in her carrier basket.
In 1978 he became the Rotary president and the Club awarded Mr Marriott and his wife Val a Paul Harris Fellow – he for his involvement with the community and Val for her involvement with the community and Red Cross.
Mr Marriott came from a family of market gardeners and Andrew Pinxt, a fellow member of the Rotary Club, remembers Mr Marriott describing how had to load the flat horse drawn lorries and bring them to the Melbourne market.
Mr Marriott and his wife had their farm on the corner of Thompson Rd and South Gipsland Highway and entertained many families on Guy Fawkes Night, organizing a big bonfire accompanied by fireworks.
The Rotary Club supported many pensioners with fire wood collected from their farm.
"Ern and Val were quiet achievers assisting many in need, and made you feel proud to know them both," Mr Pinxt said.
When Mr Marriott retired from Rotary, the Club presented him with a Sapphire Pin and made him an honorary member.
Mr Marriott's wife passed away on Christmas Eve 2005 and he retired, taking up residence at Blue Hills Cranbourne and finally at Villa Maria in Berwick.
"To know Ern was to love him," Mr Pinxt said, "A true gentleman laid to rest."