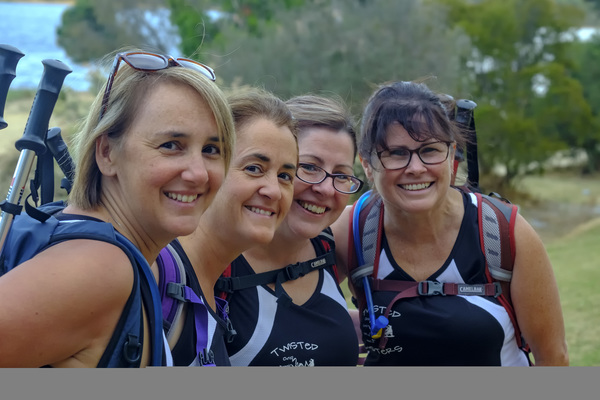 It was no easy feat for a Cranbourne resident and her sister who tackled a mammoth charity walk, as they honoured their mother who died unexpectedly a week earlier.
Angela Hadfield and her sister Christine Jones, teamed up with another pair of sisters, Berwick resident Kym-Maree Ingram and her sister, Danni Heinze, to take on a 100km walk in the Oxfam Trailwalker fundraiser this year.
They joined about 2800 people who set out from Lysterfield Park in Narre Warren North on Friday 29 March for the trail that snaked its way over Mt Dandenong and through the eastern suburbs.
The sisters, whose team name was The Twisted Sisters, have known each other for more than three decades, having met as young girls at synchronised ice skating comps, and all went on to compete in the sport at a national level representing Australia.
However, tragedy struck the team when Angela and Christine's mum Denise unexpectedly passed away.
But the pair said Denise raised them to see things through and they, along with Kym-Maree and Danni, were determined to complete the 100km trail in her honour.
And that's exactly what they just did. Spurred on by a tight-knit trail walker community who sent the team overwhelming messages of support, all four of The Twisted Sisters team completed the 100km trail on Saturday 30 March after 30 hours and 25 minutes.
The team battled a lot physically to get to the finish line in that time including rain, cold, blisters, and sore knees.
While reaching the finish line was an emotional moment in itself for most walkers, it was particularly for Angela, Christine, Kym-Maree and Danni because they knew Denise would be proud.