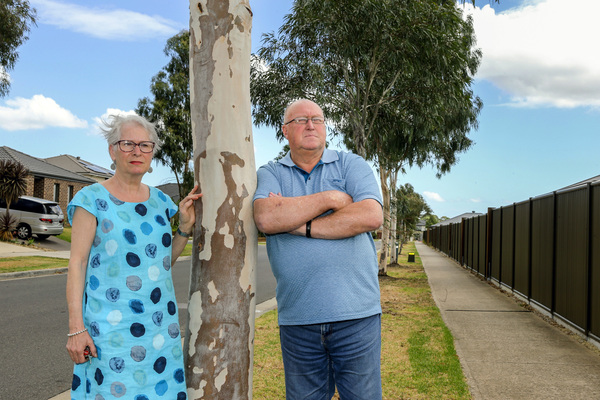 By Brendan Rees
Geoff Wright says it's just a matter of time before looming gum trees over his home eventually topple.
He is one of a number of residents at the Selandra Rise Retirement Village in Clyde North who have called on Casey Council take action.
However, the council has assured them the trees are "generally healthy and in a good condition" with only one tree requiring removal on Karabair Street after receiving a number of reports.
According to Mr Wright, all the trees are a major concern. "Eventually they're going to get that big they'll end up falling over with the wind….all of them should be taken down," he said.
"One side of each tree has no branches on them due to the wind everyday blowing.
The Bureau of Meteorology said wind gusts reached 65 km/h on Tuesday 12 February.
"It's a south-westerly wind that pushing the trees towards our property," he added. "If it was just a westerly wind well that's fair enough it will blow the leaves up the street."
Mr Wright said leaves constantly blocking downpipes when it rains since he moved in three years ago. "The only answer is to plant shrubs that don't lose their leaves like the gum trees do."
Casey manager of city presentation David Richardson said there may be some maintenance or clean-up required at times for those who live in urban environments with trees.
"Council believes this is balanced by the many aesthetic and environmental benefits they provide," he said.
"Government and Council may be able to assistance residents who are experiencing difficulty maintaining their property due to age or disability.
"Residents can contact Council's Community Care department to find out if they're eligible," Mr Richardson said.
Meanwhile, Mr Wright believes says the large gum trees "are not on."
"We're not young anymore…we want to live for the rest of our lives without any of this hassle of stupid gum trees.
"The trees are wrong and eventually something is going to happen," he said.
Mr Wright added it's also an inconvenience when the trees drop leaves around their properties: "We are all over 70-years-old and hard to pick up every day."