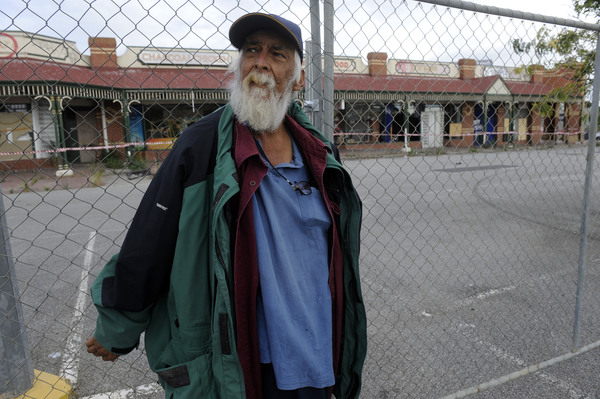 By Brendan Rees
A derelict Hampton Park Food Market labelled an "eyesore" and "Melbourne worst" will be bulldozed after Casey council approved a demolition application on Tuesday 11 February.
Council is now assessing a planning application for a multi-use development including 117 apartments, shops and offices at the Hallam Road site.
"The application has also been referred to VicRoads and Melbourne Water for their approval," Casey manager of statutory planning and building services Duncan Turner said.
When Star News visited this week windows temporary fencing was up with windows smashed, walls covered in graffiti, and damaged chairs and tables strewn across the front.
Council is also seeking extra powers to be able to issue warnings and harsher penalties to "recalcitrant owners"
"Council has asked that it be entitled to issue penalties in keeping with the community risk that these properties pose, temporarily confiscate the properties and undertake the remedial work necessary," Casey Mayor Cr Amanda Stapledon said.
"Should re-offending occur, we've asked that Council can undertake further remedial works, with the penalties to double on each occasion to the same property."
Currently the council's only legal avenue to act against the owner of the commercial premises is issuing a $2,000 fine for unsightly premises.
Councillor Wayne Smith said council was "working hard to investigate what methods Council can take to help rectify the situation."
Casey Resident and Ratepayers Association president Arvo Talvik said the site was an "eyesore" and in effect "a waste land."
"It wouldn't take much to break in and gets squatters in there and that wouldn't be good," he said.
"It would be in the council's interests to listen to any submissions from developers."
Mr Talvik said there was "any number of things" the site could be turned into including a plaza, offices, open space garden, eateries or leisure centre.
Hampton Park Progress Association spokeswoman Erica Maliki said the site was "not fair on the community."
"We've got the worst shopping centre in Victoria – we're very disappointed.
She added the association wasn't blaming council as they are "doing everything in their power" to address the issues at the Hampton Park Food Market.
Hampton Park resident Courtney Maree expressed her concerns about the site.
"It's been abandoned for like three years. We grew up here – it should've been knocked down years ago," she said.
"It's been in the planning process for ages and they decide to let it sit there. You go inside – everything is gone and smashed up."