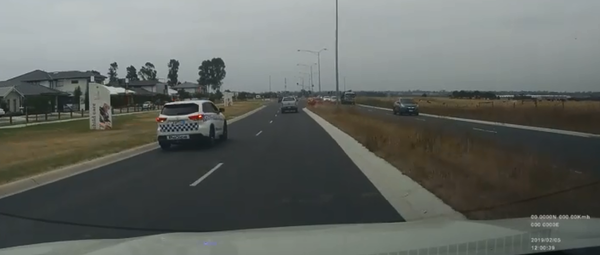 By Brendan Rees
Dramatic dash-cam footage has emerged of the moment a crazed driver careered into oncoming traffic in Cranbourne on Tuesday 4 February.
The hair-raising footage captured the driver drifting across onto the wrong side of the road on the Western Port Highway, narrowly missing cars.
Dave Cowasji of Noble Park captured the footage on his dash-cam as he was travelling east on Hall Road when "all of a sudden I heard this bloody noisy car shoot past on my right hand side."
Shortly after, he said the driver, who he believed was driving a red Mitsubishi Lancer, made a right hand turn on the wrong side of the Western Port Highway. "That's when I lost him."
He said unmarked police cars were "whizzing past on the shoulder and emergency lane."
Mr Cowasji said the driver was "leaving a big trail of dust" as his front bumper bar had partly come off and was dragging.
"He was making a massive racket. Next I saw the police helicopter arrive," Mr Cowasji said.
"I was taken aback for a moment. I don't know what this guy was running from.
"Crazy's not the word. It was nuts," he said. "I worried innocent people would be harmed," he said.
"I wasn't frightened as such; I worried for the other road users. It could be a pregnant woman; it could be a young kid, could be anyone.
"I tried to keep as close but I got held back by the traffic," he said.
Another witnesses described on Facebook's Casey Crime Page of "a psycho was just fanging it down the wrong side" of the Western Port Highway in a red car.
In a statement, Victoria Police spokeswoman Elaine Cooney said a 29-year-old Cranbourne West man was arrested following a short pursuit.
"Police were searching for the man in relation to multiple offences which occurred last week. He is currently assisting police with their enquiries," she said.