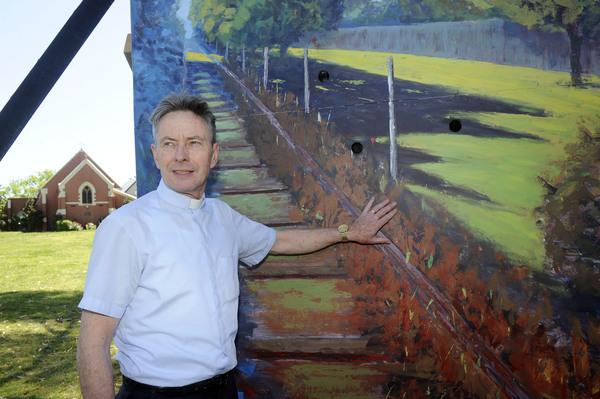 By Brendan Rees
A strong advocate for Cranbourne, Reverend David Powys spends most days of the week working into the night.
The vicar St John's Anglican Church sent a big message to political parties in the lead up to the state election by displaying his protest painting outside his church that depicted an abandoned stretch of rail track to Cranbourne East.
"Life is very difficult now for people who have to commute out of Cranbourne for work, whether by train or car," Star News 2018 person-of-the-year explains.
"Life will be much easier for everyone in this parish when the train line is extended, and when we come to rely less on Cranbourne and Merinda Park Stations to access train services."
According to Mr Powys, the rail extension to Clyde "is long overdue," and hoped the newly elected Cranbourne Labor MP Pauline Richards "will see what was promised nearly 20 years ago by a previous Labor Government: the extension of rail services to a station at East Cranbourne."
With the population of Cranbourne East/ Clyde area tipped to hit more than 143,000 people in 2041, Mr Powys says there was "nowhere near enough" improvements being made.
"It is not always easy to know what the community is thinking, but everyone who has spoken with me about the painting is supportive," Mr Powys said.
Since arriving at St John's in 2008, Mr Powys says "we have done all that we can to foster participation by people from all backgrounds on our various committees and in our various activities."
"At the level of volunteers, there was probably a team of fifteen when I first arrived. The number is probably now over forty."
Mr Powys is passionate about cultural diversity: "Several years ago six different cultural groupings within St John's run a night showcasing their culture, food and history for the benefit of all. These events attracted participation by up to 200 persons a time."
In December, Mr Powys said young people from St John's staged a Rock Musical 'WAiT It's a Musical,' where the cast, musicians and youth support crew were all from culturally diverse backgrounds.
City of Casey Mayor Amanda Stapledon praised Mr Powys and his hard working parishioners for transforming St Johns, who she described as "doing good in their church and the community."
"David has seen the need for better roads and public transport and has been an invaluable part of council's Commit to Casey and we thank him for it," she said.