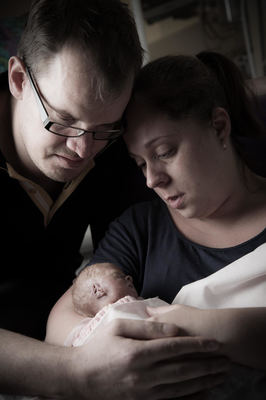 By Brendan Rees
When Amanda Harris fell pregnant four years ago, the first-time mum of Cranbourne West was over the moon.
But what happened in the days after Amanda gave birth to little Amelia was more devastating than she or her husband Paul could have imagined.
When Amelia was born at 28 weeks and five days, weighing only 705 grams in March 2014 – she was diagnosed with Necrotizing enterocolitis, a disease that develops when the tissue in the inner lining of the small or large intestine becomes damaged and begins to die.
"In the end we decided to switch off her life support," says Amanda. "She passed away when she was 21 days old."
"We tried for four years to have a baby with no luck; then did IVF and fell pregnant first go."
During her pregnancy, doctors told Amanda her she had pre-eclampsia – a disorder where pregnant women can suffer from high blood pressure and kidney dysfunction.
She also had Intrauterine Growth Restriction where babies in the womb are smaller than they should be. "That's what caused her to stop growing because she wasn't getting enough blood flow through the cord," Amanda said.
"You think once you hit the 20-week mark everything is going to be fine, nothing is going to happen.
"We've been through a whirlwind," she added. "They knew at my 20-week ultra sound that she was small and that she wasn't growing well and nobody told me."
Today, the couple have two healthy children and will be taking part in the Walk for Prems at Albert Park Lake, to raise funds and awareness for sick and premature babies.
"We decided to do the walk every year in memory of our little girl to help raise awareness things you don't understand that are there until it happens to you," says Amanda.
Joining them for the walk will be families from Berwick, Cranbourne and Narre Warren South.
Chief Medical Officer and Senior Paediatrician at Latrobe Regional Hospital Dr Simon Fraser said premature birth was on the rise – affecting about eight per cent of births.
"There are many reasons for this. They include increasing maternal age, more multiple pregnancies with assisted reproduction, higher rates of maternal diabetes and obesity to name a few," he said.
"Prematurity can cause significant financial, emotional and psychological hardship to families and is associated with significant rates of stress and mental health issues for families particularly if they have no supports."
Funds raised in the walk will go to Life's Little Treasures, Australia's foremost charity dedicated to supporting the families of babies born sick or prior to 37 weeks gestation.
Walk for Prems will take place on Sunday 28 October.
To for more information visit https://walkforprems.org.au/