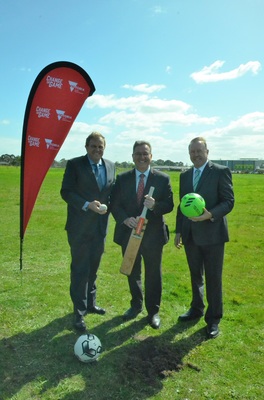 The City of Casey has welcomed the announcement of funding towards the development of a new sports and recreation reserve to help meet the needs of the growing Cranbourne East and Clyde North communities.
Council applied for funding towards the project through the Victorian Government's Community Sports Infrastructure Fund, and Minister for Sport, The Hon. John Eren MP, visited Casey on Wednesday, 12 September to announce a $800,000 contribution towards the project.
The $9.01m project will transform the undeveloped Selandra Active Open Space reserve, located in the Selandra Rise estate, to a district-level soccer and cricket facility including:
• Three full-sized soccer pitches and two cricket ovals
• Multipurpose community pavilion with six change rooms and large community room
• Sports lighting
• Cricket nets
• Playground
• Shared walking and cycling paths
City of Casey Mayor Cr Geoff Ablett thanked the state government for their contribution towards the project, with the council to invest the remaining $8.2m to bring the project to fruition.
"This project will deliver a much-needed, multi-purpose reserve which will help meet the sports and recreational needs of the new and growing communities of Clyde North, Cranbourne East and surrounds," he said.
"The reserve is co-located with Wilandra Rise Primary School and the Selandra Rise Family and Children's Centre, and is across the road from St Peter's College, making it a great, accessible location for many local families.
"Council is committed to reducing the gap in infrastructure for high demand sports including soccer and cricket, so our community can be active, healthy and connected. As such, we look forward to bringing this project to life.
"Council thanks the state government for visiting Casey to announce your contribution towards this project, which ensures council, can now get on with delivering it for our residents."
The council has also applied for an additional $1.57m in funding from the state government towards this project through the Growing Suburbs Fund (GSF) to further assist council.
"With such a large and growing community and the constraints of rate capping, Council needs assistance from all levels of government to deliver the infrastructure our community needs and deserves," Cr Ablett said.
"Council hopes to receive further funding support towards a range of projects across Casey through the GSF and Community Sports Infrastructure Fund, and look forward to hearing the outcome of our funding applications shortly."