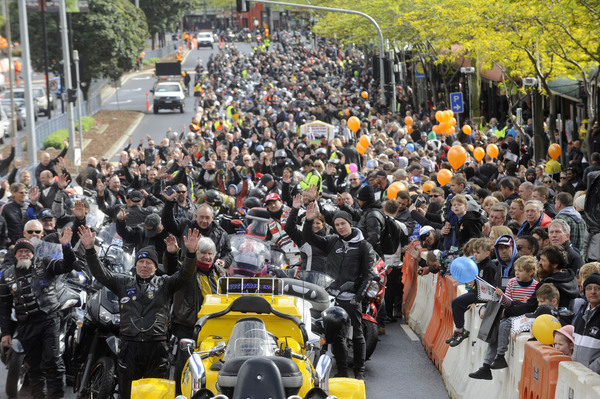 Clear the calendar for the last weekend in October with world renowned comedian Arj Barker just announced as the celebrity guest for the 2018 Cranbourne GP Run.
The GP Run will take place on Saturday 27 October in Cranbourne, with thousands of motorcyclists expected to gather before they travel en-mass to Phillip Island for the Grand Prix.
The Casey Cardinia Foundation, which raises funds for local groups in the Casey and Cardinia regions, has also been announced as the major charity partner for the event.
The GP Run is one of Council's largest events and has been running for 21 years. Arj Barker will attend as the celebrity guest with official wave off to occur at 10.00 am before the
motorcycles roar down High Street.
City of Casey Mayor Cr Geoff Ablett said the GP Run is a wonderful community event that attracts thousands of spectators who witness a site to behold.
"The Cranbourne GP Run is one of our most popular events, with the scene of thousands of motorcyclists heading off en-mass to Phillip Island always a spectacular view," he said.
"I am also thrilled to announce that this year's major charity partner will be the Casey Cardinia Foundation, which provides independent grants that support the growing needs of our community.
"The foundation disperses grants that directly benefit members of our community, including the disabled, elderly, disadvantaged and local youth.
"In 2017, the foundation distributed more than $67,000 to local organisations."
The GP Run fun will kick off from 8.00 am until 11.00 am, with stallholders providing food and beverages, and plenty of entertainment planned for the day!
Be sure to get down early to secure a good spot as High Street closes for the morning, to make way for the motorcycle mass.
Stay tuned to Council's channels closer to the date to find out about changed traffic conditions.
For more information, head to www.casey.vic.gov.au/gprun.