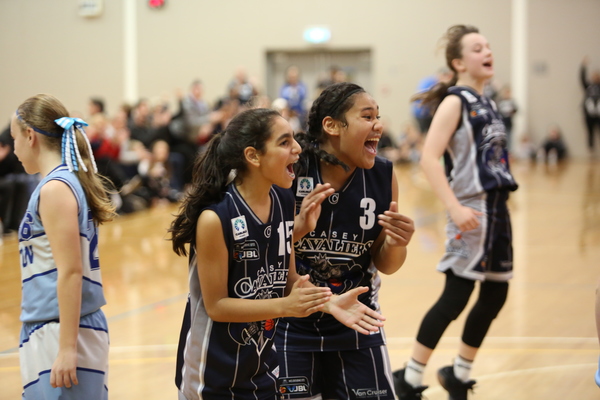 By Hayley Wildes
The Casey Cavaliers have no shortage of talent coming up through their junior basketball ranks. That much is evident by simply walking into Casey Stadium on a Friday night for Victorian Junior Basketball League (VJBL) action.
The Cavs' under-12 girls team is further proof of the tremendous talent at Casey. Over the Queen's Birthday weekend, the girls competed at the National Junior Classic (NJC) – the association's first ever girls team to do so.
The annual NJC sees the very best teams from across the nation battle it out for bragging rights. This year, the tournament was held at Dandenong Stadium and the Cavs weren't intimidated on the biggest stage.
Not content with just making up the numbers, Casey won two of their three group games to finish second in Group C. Their lone defeat was a four-point loss to the Forestville Eagles.
With strong contributions across the board, Evelyn Connolly's performance in the tight 54-50 win over Canberra was outstanding. Connolly poured in 19 points, including nine in the third quarter, to help her team to a hard-fought win.
In the fight for final placings, Casey played three more games and came away with one win to finish the NJC with a 3-3 record – a great achievement and experience for a team on the rise.
The team's thrilling win over Dandenong in their second last game was a true testament to the team's determination.
With scores tied at 35 late in the game, the Cavs' defence stood up and held the Rangers out for the final minutes of the game as Casey went on to record an stirring 38-35 win.
With all 10 players stepping on the hardwood for every game, it truly was a team effort and one that Casey Basketball followers should be extremely proud of.
Emilija Dakic was an offensive weapon and led the way for the Cavs, averaging 10.5 points per game, while Evelyn Connolly (8.5 points per game) and Victoria Meredith (7.33 points per game) were impressive.