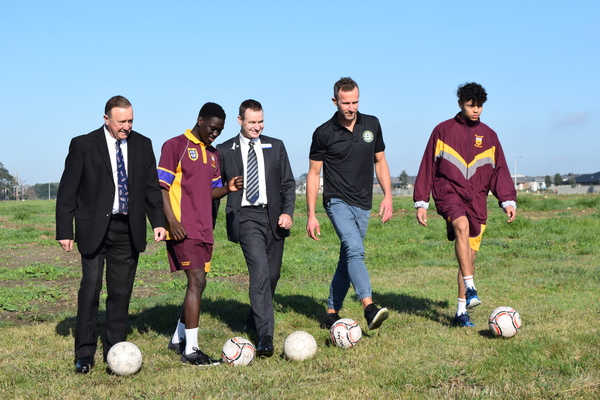 St. Peter's College students had the opportunity to hone their soccer skills with former Australian goalkeeper, Clint Bolton at Casey Fields on Monday 14, April.
The soccer star dropped in for a special visit as the City of Casey Mayor, Geoff Ablett announced this week that Casey would commit $23.8 million to build a new soccer hub at Casey Fields if Team 11 – the consortium based in the South-East – secures its bid to gain entry into the A-League in the 2019/20 season.
The first stage will include an $18 million Casey Football Centre of Excellence, with the City of Casey pledging $13 million to the project which will be used by the community including schools like St Peter's College in Cranbourne.
St. Peter's College principal Chris Black said the establishment of this facility as well as an A-League and W-League club in the south-east would be a huge boost to the local community.
"Without question football is the number one sport of choice for the large majority of our students, and I would say that is the case for so many other schools in the region," he said.
"We know that actively engaging in team sports, and for that matter any form of organised sport, has the mutual benefit of building community whilst also providing opportunities to promote living a healthy lifestyle."
Mr Black said having a professional club in the city would serve as a "huge inspiration for our students and make a tangible, positive difference in their lives."
"I believe the whole Team 11 project has an opportunity to transform our region in regards to soccer, sport participation and the general fitness and wellbeing of our youth."
Stage one of the project is dependant on a successful application to the Victorian Government's Growth Areas Infrastructure Contribution Fund.