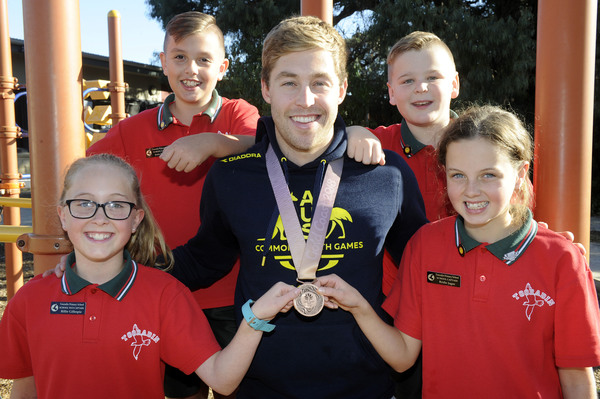 By Brendan Rees
Josh Beaver returned to his old stomping ground at Tooradin Primary School this week – only this time he had a Commonwealth Games bronze medal around his neck.
The 25-year-old former student and school captain made a special visit on Monday 14 May to talk about his amazing success at the Commonwealth Games held on the Gold Coast in April where he took bronze in the 200m backstroke.
He had this message to share with young students: "To achieve your goals, find your own personal strengths and have a positive mindset."
No questions were off limits with the students as they were eager to ask the champion how he goes about his training – with one even asking about his diet.
Josh explained to the students to perform at an elite level he started training at 5.30am every morning before swimming 12km every day. He said he gained a competitive edge as a youngster, swimming from the age of eight.
Teacher Rachel Davis said Josh's visit was inspiring for all students as he shared that his achievements were not just about winning medals but about reaching the goals he set.
"He shared that he had grown up reading the quote 'The journey gives meaning to the destination' and combined with his goal of swimming in a Commonwealth Games he had a clear vision to work towards," she said.
Ms Davis said students went away from this school day feeling inspired.
"Staff and students were inspired by Josh's level headed approach and friendly attitude that have served him so amazingly well in his sporting career and we look forward to seeing where these qualities lead him next," she said.