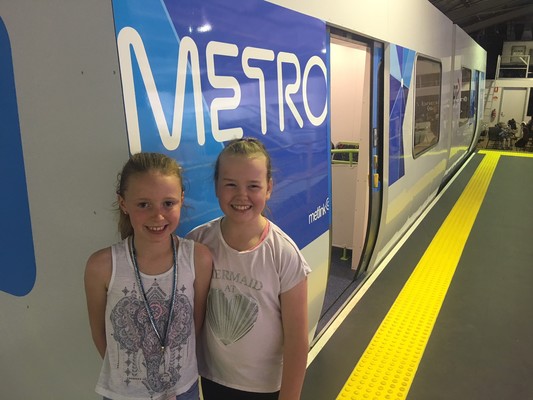 Casey kids with low vision have honed their train travel skills at a state-of-the art mobility training centre.
The Vision Australia centre at Kensington features a realistic simulated outdoor environment with a Metro train carriage and platform, pedestrian crossings, roadside kerbs, functional traffic lights with audio signals, an escalator, a mock café, a reversing car, footpaths and varying surfaces.
Some 20 children, including kids from Berwick and Cranbourne, who are blind or have low vision got to experience the centre during the school holidays.
The centre typically allows people who are new to using a white cane or working with a seeing eye dog to find their feet in a safe environment.
Vision Australia orientation and mobility specialist Marg Harvey said the school holiday event was a rewarding experience for the children that allowed them to have fun while receiving vital mobility training.
"Most of us take our mobility for granted but it's a real challenge for people who are blind or have low vision to cross the street, catch a train or find their bearings when they're outside, or among pedestrians and traffic," Ms Harvey said.
"We thought this was a fun way to boost the kids' confidence and improve the skills they'll use to navigate the world and be a part of their communities."
Seeing eye dogs also joined the fun for some pats and cuddles with the kids.