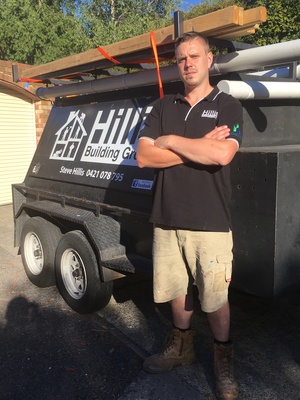 By Brendan Rees
A tradie has been left devastated after thieves allegedly stole his work trailer in Cranbourne East during the early hours of Tuesday morning, 20 February.
Builder Steve Hillis, who runs his own business, Hillis Building Group, said he had left his trailer, worth $2000, parked at the front of work mate's house on Gwenton Avenue.
He said the six-by-four, single-axle trailer was secured to a car with a padlock.
"They've cut the locks and taken the whole trailer," Mr Hillis said. "It was a perfect night for it because it was nice and loud and windy."
Mr Hillis was alerted by his work mate that his trailer was stolen, which is believed to have happened between 2am and 3am.
"I'm getting over it to be quite honest…You try and do the right thing, pay your taxes, build up at business and you get these pr****."
Mr Hillis was left further seething as he had lost $8000 worth of tools that were also in the trailer.
"It's a bloody inconvenience, you work a 50-60-hour week just to get on top, give your workers a job and income and this someone comes and knocks this off".
Cranbourne police are investigating and were enquiring with residents for any CCTV footage.
"We think it may have been around 3am when the reporting person has heard their dogs barking but they kind of put it down to the wind," Senior Constable Jess Brookens said.
She said police were unable to take fingerprints from the padlock has it had been touched by the victim. No witnesses were also known at this stage, she added.
Mr Hillis said it was the third time in three-and-a-half years that his business had been targeted by thieves.
"First time they smashed a window of the work car," he said. "We had tools in the back of that and they smashed a window and grabbed everything they could out."
"Second time, they popped opened some work boxes on another work ute and pretty much anything with a handle they've just grabbed and stolen…all your nail guns, all your levels, bits and pieces."
The registration number of the trailer is W21 804 with the business' logo on the side.
Mr Hillis also appealed for the public's assistance, posting a picture of the stolen trailer on Facebook's Casey Crime Page.
Anyone with information is urged to contact Cranbourne Police on 5991 0600 or Crime Stoppers on 1800 333 000.