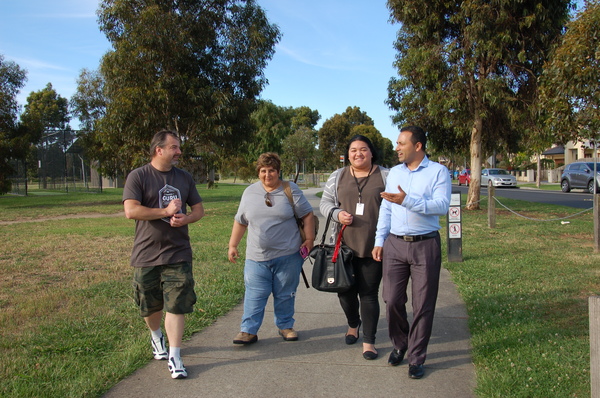 By Brendan Rees and Cam Lacadou-Wells
Speeding motorists are putting lives in danger along Paterson Drive in Lynbrook – with cars likely to "end up in someone's backyard," a Casey Councillor has warned.
Councillors Damien Rosario and Wayne Smith called for something drastic to be done to slow traffic on the road which is already 40 km/h.
They were alerted to the problem after residents complained on their Lynbrook Social Page on Facebook about hoons driving at terrifying speeds.
"Patterson Drive is a very narrow, very scary type of road," said Cr Rosario during a council meeting held on Tuesday, 6 February.
"It's only meant to be 40 km/h but drivers (hoons) are going a lot faster than that,"
Councillors voted for council officers to investigate the issue of hoon driving on the road, and in particular a request by residents for consideration of the installation of traffic-calming measures.
Council will also consider the use of a speed-alert trailer as well as requesting Victoria Police to patrol the area.
Cr Rosario, who has supported residents' concerns recently for lights to be installed at Banjo Paterson Park in Lynbrook which also faces Paterson Drive, says pedestrians were at risk of hoons.
"If you drift a bit, you're already in the other lane."
He added: "One wrong move, you're on the footpath, you're in someone's yard."
"To me it's a very scary road actually."
Cr Rosario and Cr Smith say the installation of speed humps may not be the best outcome as they can be quite noisy and disturbing for residents.
"I don't know what the solution is but I know that council officers will do their due diligence to look at the issues and report back," said Cr Rosario.
Cr Smith said Paterson Drive was "such an attractive road for speeding because there's nothing there to prevent you from doing it."
Lynbrook Residents Association President Jason Wood said in addition to Paterson Drive, Hutchinson Drive and Elliott Parade also annoyed residents with "poor drivers".
"The big problem is that these are residential areas with people trying to sleep at night, or children playing during the day," he said.
"Some of these are purely hooning, but others, especially Hutchinson and Elliott, are just constant poor driving with high speed and crossing traffic lines."
Mr Wood said the situation "definitely need to be looked at," suggesting a stronger police presence.
Cranbourne Highway Patrol Sergeant Pat McGavigan said Paterson Drive was not on their list of high priority roads in relation to monitoring hoons.
"If we are aware of complaints of hoons and potential high risk driving we'll take whatever action is appropriate."
He added: "We hope we'll catch them before someone gets hurt".
According to VicRoads, there were no serious injuries or fatalities recorded in the year to August, 2017 on Paterson Drive, which is owned by Casey Council.
A report will come back to council in April.