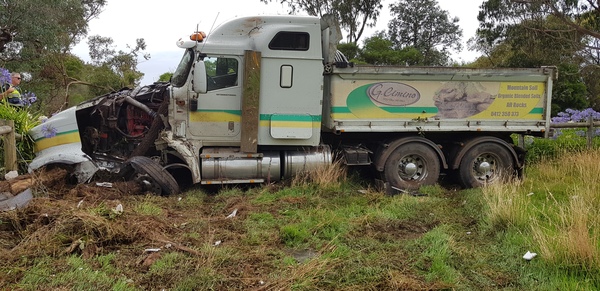 By Brendan Rees
A truck driver was lucky to escape serious injury after veering off the road and hitting a tree in Pearcedale on Friday 12 January.
It is believed the 12 tonne tip truck was travelling east bound on the Baxter-Tooradin Road just after 9am before ploughing into a nearby paddock.
Police and emergency services were called to the incident which occurred near the intersection of Western Port Highway.
The driver, a 39-year-old Traralgon man was transported to Frankston hospital for observation after it's believed he suffered an epileptic fit.
Pearcedale CFA Second Lieutenant Chris Judd said it was lucky no one was hurt.
"To walk out of something like that without a cut or a bruise is pretty good."
He said the man was conscious but appeared very confused and dazed.
"He was talking a little bit when we first got there and after a while he came good," he said.
Mr Judd said the truck driver narrowly missed hitting a power pole as he veered across the road.
"He knocked over a farming fence and ended up in the paddock. Luckily there were no on-coming cars."
Police will investigate to determine the cause of the crash.