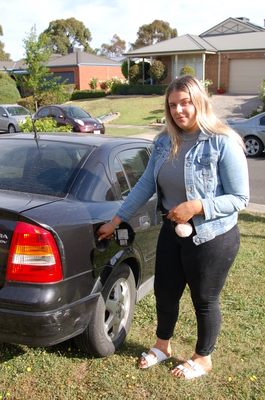 By Brendan Rees
A 19 year-old motorist has told of how her visit to a United service station in Cranbourne South destroyed her car's fuel system – leaving her a repair bill she couldn't afford.
Racqueal Kosakiewicz says she filled up her Holden Astra with a full tank of unleaded petrol at United Petroleum on Cameron Street on Wednesday 27 December.
But after breaking down later in the day, the tank was believed to have contained diesel fuel.
She says she heard a "crackling" sound and weird noises as she was driving.
"It was getting worse as I got home. My dad turned it on and he said it was stalling and smoke was coming out of it."
Ms Kosakiewicz, of Cranbourne East, said her brother-in-law; a mechanic checked the car thinking the timing chain needed replacing.
"I almost bought the part and he looked at it again and he said 'It smells like diesel.' I said 'I'm not stupid enough to put diesel in my car.' I said 'I've got the receipt."
She said she topped up her car with premium fuel to try to flush out the diesel but adds "It shakes and dies because there's still diesel through the motor."
"It's running really rough and you can't keep it on."
She said she called United and was advised to fill out a complaint form.
But United didn't return her phone calls for two weeks, she said, whilst her car was parked broken-down on her front lawn.
"It's ongoing, nothing's been done and I do need to have a car. At the moment I've paid almost $400."
She said her boyfriend's car was also affected at the same service station: "His was only $15 (of petrol). It's still playing up a bit whereas as mine was a whole full tank."
Mechanics told her they wouldn't carry out any repair works until they confirmed they would be paid by United.
"If it was cheap I would just pay it but it's going to cost me so much money I don't have."
Ms Kosakiewicz finally received a call from United on the 10 January advising her to provide a quote from a mechanic.
"I explained I haven't sent it out to you because I don't know what I'm paying for. No one has told me."
"He said 'you can pay for it and be reimbursed or you can wait for the money to come and then pay for it.'"
United Petroleum CEO David Szymczak apologised to any consumers affected, saying there was an unforeseen equipment failure whereby a mixture of petrol and diesel was dispensed from fuel bowsers at the Cranbourne South service station.
"That equipment failure has been since rectified and is resolved."
"We're working with consumers that have been affected and paying out all claims," he said.