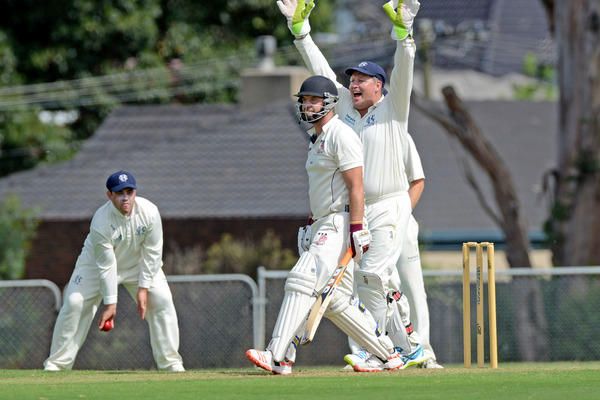 By Nick Creely
The Bears from Berwick have stood on their back two legs and bared their teeth with a wonderful outright victory over Heinz-Southern Districts in round four of DDCA Turf 1 on Saturday.
The Bears jumped a staggering four places on the ladder – from sixth to second – after an extraordinary 25 minutes of cricket sent an ominous warning to the DDCA's top end of town.
Resuming at 5/32 in pursuit of the Bears' modest first innings total of 146, seamer James Wilcock left a scarring dent in the Cobras' batting line-up, picking up where he left off after three late wickets on day one.
Wilcock found the edge of skipper Matt Cox (7) and Michael Davies (0) before the Cobras could even score a run on day two, leaving them 7/32.
The former Dandenong quick picked up two more wickets to finish with the mind-boggling figures of 7/9 off 10.5 overs – his third five-wicket haul of the season – with the Cobras rolled for the meagre tally of 46.
Skipper Jarrod Goodes sent the Cobras back in to face the music, and this time it was a more rounded team effort, with Goodes (3/39), Alex Cross (2/6), Cory Bevan (3/22) and Jarrod Armitage (2/23) all combining to skittle the visitors for 130 in just 41.5 overs.
The Bears wasted no time in earning the extra points, slamming on 31 runs to cap off a dominant day's play.
Hallam Kalora Park (6/270) can thank a brilliant century from Thalaivan Xavier (130) for its mammoth run-chase against Buckley Ridges (269).
Xavier strode to the crease at 1/20 and didn't leave until his team was in an unbeatable position at 6/247. The class act whacked 10 fours and four sixes from 160 deliveries and received great support from Jordan Hammond (36) and Leigh Booth (35) along the way.
Springvale South (191 and 2/10) remains undefeated after an impressive day-two performance against Mordialloc (112).
The Bloods limped to a total of 191 before Steve Spoljaric (4/8) snared the early scalps of Brendan (0) and Ryan Morris (0) to leave the home side in all sorts at 3/8.
North Dandenong (8/151) has recovered from a poor start to chase down Cranbourne's (150) modest total at Casey Fields.
Resuming at 1/0, the Maroons were soon 2/1, then 4/25, before Shane Clark (43) and Clay McCartney (28) led their side to victory. Cam Kelly (3/29) was best for the hosts.
In other games, Rhys Serpanchy (53) and Kaushyla Gajasinghe (51) scored half centuries as St Marys (6/194dec) made little fuss of its chase against Dandenong West (102 and 2/36), while Christo Otto (76) starred for Dingley (9/206dec) against Narre Warren (139 and 4/116) at Sweeney Reserve.
In Turf 2, Beaconsfield was given a cricket lesson by Narre North in their one-day contest at Perc Allison Oval.
Batting first the home side was rolled for just 70 after two brilliant spells by Nathan Pulham (4/23) and Joel Zietsman (4/27). The North took just 15.3 overs to run down the total, with Josh Tonna (23) and Josh Henry (17) doing well at the top of the order.
In other games Narre South crushed Parkfield to remain undefeated in second spot on the ladder. Chasing 90 for victory the Lions finished on 177 on the back of a terrific half century to John Mirranay (55). The Bears were 5/69 in their second innings when stumps were drawn.
Parkmore (239 and 2/72) remain top of the table after defeating Fountain Gate (169), Silverton (5/193) eased past Lyndale (144), Coomoora (8/254) were a cut above Lynbrook (167) and St Brigid's/St Louis (3/227) narrowly beat Keysborough (9/223).
TURF 1                    P     W     L      D     PTS    %
Springvale South   4      4     0       0       24    2.02
Berwick                  4       3     1      0       22   1.33
Hallam KP              4       3     1      0      18   1.53
Buckley Ridges     4       3     1      0      18    1.49
Mordialloc               4       2     2      0      16   1.22
St Mary's                 4       2    2      0       12    1.73
Heinz Southern       4       2    2      0       12    1.16
Dingley                   4        2    2      0      12     0.93
North Dandenong  4        2    2      0      12     0.64
Cranbourne           4        1    3      0        6     0.52
Dandenong West  4        0    4      0        0     0.53
Narre Warren        4        0    4      0        0     0.41
Rolling Turf 1 Team of the Year
Leigh Booth, Hallam KP
Daniel Watson, Buckley Ridges
Thalaivan Xavier, Hallam KP
Kaushalya Gajasinghe (captain), St Mary's
Greg Todd, Buckley Ridges
Steven Spoljaric, Springvale South
Michael Davies, Heinz Southern Dist
Ciaron Connolly (keeper), Hallam KP
Dinuk Hettiarchchi, Dingley
James Wilcock, Berwick
Jarryd Straker, Springvale South