By Nick Creely
Casey-South Melbourne captain Lachlan Sperling is the first to admit that his side has severely under-performed in its winless start to the season, but will continue to back his team in to find a way to break out of a form slump that threatens to not only derail the season, but end it.
After his side put up a more competitive performance in a five wicket loss to Geelong on Saturday at Casey Fields, with young debutants Austin Heldt and Jonah Serong impressing, Sperling said despite the disappointment, there was plenty to take out of the game.
"(There was) definitely more positive signs as a group, still not the result we were after but we showed a lot more fight despite scoring a sub-par total," he said.
The Swans were sent in to bat on a tough batting deck, and despite starting steadily, only managed to post 9/169 off their 50 overs.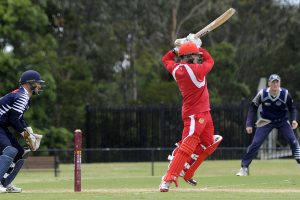 Heldt (31) at the top of the order was particularly impressive – particularly square of the wicket – and managed to survive a nasty spell by Cats' spearhead Dom McGlinchey (2/23) to get the 19-year-old's Premier career off on the right foot.
He was ably backed up by Chris Benedek (34), who continued his strong form in the middle order, while Dylan Hadfield (35) and Brendan Rose (26) helped guide the Swans to a competitive total after being 5/70 midway through the innings.
Casey spearhead Nathan Lambden (2/42) picked up the key scalp of Tim Ludeman caught behind for a duck to get the home side off to a perfect start, but a 74-run partnership between skipper Eamonn Vines (74) and Josh McDonald (61) saw the Cats climb into a winning position.
Serong, the 16-year-old spinner from Longwarry, was brilliant on debut, using his flight and variations perfectly to finish with 2/24 as the Swans mounted a late comeback in the middle stages, but ultimately the Cats found the winning runs five wickets down in the 40th over.
Sperling – who took 1/26 with his left arm spinners – was full of praise for both Heldt and Serong – who look like they will have long careers at Premier level.
"Both debutants were super impressive – Aussie at the top of the order stood up well to some quality bowling when the ball was seaming around a bit," he said.
"Jonah was also fantastic with the ball showing great control and bowling to a plan.
"For a 16-year-old kid to come in and do what he did was really exciting.
"Both boys showed no signs of nerves and it gives us great signs moving forward."
Sperling again lamented the batting effort, with the Swans once again losing too many quick wickets, but backs his side to find a way to score heavier runs.
"Obviously the intent and building up of dot ball pressure has contributed to (our) poor shot selection," he explained.
"But we have great faith in our top seven to get the job done and hopefully a few big scores as a group aren't far away."
And the club will only move forward as they look to climb off the bottom of the ladder, with a winnable game against Frankston on Saturday the perfect chance to get their season back on track.
"We've got quite a bit of cricket to be played before the longer formats begin but I'm confident we have a core group that will be competitive and put the results on the board that we're after," he said.
"The boys are upbeat. It's not ideal that we're 0-5 but we know there are a lot of points on offer over the next three weeks where we can start pegging our season back on track.
"We know Frankston has a very talented side and we will have to be at our best to knock them off.
"We know 0-5 isn't ideal but we will embrace the challenge to put the results on the board to get our season back on track."