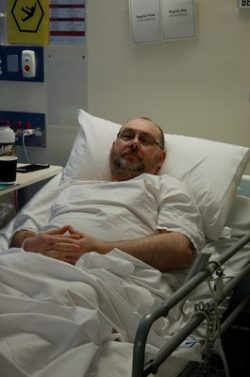 By Brendan Rees
A disabled man who survived being run down by a hoon in Cranbourne West says: "I believe I should have died."
Phil Handby, of Cranbourne West was walking on Breens Road as part of his rehabilitation from recent knee replacement surgery when an out-of-control car struck him about 5.30pm on Saturday.
Mr Handby was taken to Dandenong hospital after suffering fractures to his right leg.
"I was on my fourth blooming walk then I get run over. So now it's blown everything out the window."
The 54-year-old said he had tried to signal to the driver to slow down as "he was getting so close to the kids" in a nearby park.
"My first thought is those kids are in serious danger of a high speed crash that could kill I don't know how many people."
Desperate to slow the car, Mr Handby stepped onto the road and signalled at the driver again.
He said he remembers seeing the car "drift" sideways before it started careening towards him.
"It was going flat-out towards us. I looked at the kids and I thought this could be a big disaster because he was all over the place."
"I just thought he'd slow down and drive off," he said.
"All of a sudden he's pointed the car at me. I've gone 'Crikey.' He's actually come straight at me and I thought I'm gone. Then he put on the brakes. Next he stopped and just touched my knees."
Mr Handby said he heard the wheels lock before the driver "hit the throttle" and drove towards him, pulling his right leg under the car.
"I got run over by the front wheel and then my ankle got run over by the back wheel. So it went over my leg twice and busted up my ankle. After he hit me everything just went zonked."
"I didn't even get a chance to bolt," he said.
He believes the car was travelling close to 150 km/h, adding "I just thought I'm gone."
He said the car just missed his head: "In a split second I was fully down. When the back wheel went past my head literally it just touched the outside of my ear. That's how close it was."
He counts himself lucky after emergency crews told him he "could've died."
"I believe I should've died. I thought I was going to die. By the grace of God I'm here."
He said doctors wouldn't be able to operate on his leg for up to three days, until the swelling goes down.
"They can't do the operation at the moment because the trauma has made the leg so big. To give you an idea, my knee is about as big as a football."
"Apparently there's a break and multiple fractures but they can't do anything yet. It's a mess. You can't operate on something, they said it would never sew-up."
"I've bruised both my wrists and dislocated my little finger I think. They thought I had a cracked vertebra in my neck. Luckily after the CT scan they said 'Your vertebrae are OK,'" he said.
"Because of my knee replacement they can't do a normal leg reconstruction because they need to come in from where the knee is to put a rod down there and they can't."
He said he was disabled from pre-existing spinal and back injuries, and was "probably never going to work again" after the incident.
Despite the ordeal, Mr Handby said he had forgiven the hoon: "I believe in God, so there's no good holding grudges."
"In saying that everyone is accountable for what they do and I believe that he was putting himself at risk. He was putting other drivers at risk. He was putting pedestrians at risk."
He said it was lucky a driver of a four-wheel drive caught the hoon on their dash camera.
Police are investigating the circumstances of the incident.