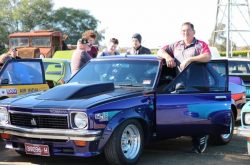 By Brendan Rees
Cranbourne North resident Colin Crane is ready to drive his 1975 Torana SLR 5000 with other Holden enthusiasts on Sunday October 22 October for a commemorative cruise to mark the end of an era.
As the last Holden would rolls off the production line in Australia on 20 October, Aussie Torana Legends Social Cruisers and HQ Holden Cruise Club of Victoria are calling for dedicated Holden owners to gather outside the old Holden Manufacturing Plant in Dandenong on Sunday for an 'End of manufacturing cruise' to Trafalgar Holden Museum.
Mr Crane, also the Aussie Torana Legends Social Cruisers group manager said the cruise was "very important" to remember the history of Holden.
He encouraged all Holden owners to join for the drive on Sunday for a chance to reminisce.
"From my point of view, I can understand both sides of the story but for me there's the history. It's like the old saying 'We love meat pies, football, kangaroos and Holden cars'," Mr Crane said.
"We encourage anyone who has got a Holden because it's history in the making and we've really got to support and remember that history. The reason part of this group started was because of the history and legends of our past. And we want to keep that history living."
"We're meeting at the old site – there are cafes at the old site now. They're opening up and they're doing egg and bacon rolls and coffees for breakfast for whoever turns up," he said.
"I've got Joe Felice coming. He had different management roles with Holden for 43 years including manager of motorsport HDT racing of the Peter Brock era and other management."
From the old Holden Manufacturing Plant, Mr Crane says a convoy of Holden cars will drive to Trafalgar Holden Museum where more than 500 Holdens of different models and eras will be on display.
For Mr Crane, Holden was not only a passion – it was a part of his identity.
"My dad was a Holden owner, his dad before that was a Holden owner. A lot of my family were Holden owners. I was a Holden owner. I've still got Toranas now. I've got a 75 LH SLR 5000 and I've also got a 1976 SS original hatch."
Mr Crane said the Holden brand had been loved in this country since 1948 and it was a "sad moment" to salute an end of era for Australian car manufacturing.
"To lose the history and to lose that era and just say goodbye, I just think it's not good enough. I understand from Holden's point of view they're doing it cheaper overseas and they can make more money.
"There's hundreds of small companies that supply all these factories with stuff like racks, bits and pieces and so on and they're all going out of business."
He said his Aussie Torana Legends Social Cruisers group was a "friendly atmosphere group," adding "There's no issues, no politics, and no demands."
Any Holden owner is welcome to join the commemorative cruise on Sunday 22 October. Attendees are asked to meet at the old Holden manufacturing plant located at 125 Princes Highway, Dandenong South at 8am for a 9am departure. Suburban Cafe will be doing breakfast for everyone with egg and bacon toasties and coffee for $8.
All Holdens welcome to remember the end of an era.