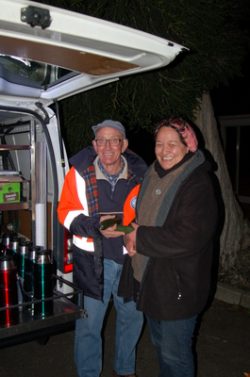 By Brendan Rees
Soaring power bills and crippling living costs have forced many cash-strapped families in Casey to turn to charities for help.
Figures from the Society of St Vincent de Paul show more than a five per cent increase in the number of people in Casey needing support over the past three years.
St Vincent's regional president for Casey and Cardinia Caroline Arnett said rising household bills were hurting families.
"Every day there will be calls from people are saying they are in risk of being made homeless or being evicted because they can't pay their rent. And they might have three or four or even five children," she said.
Ms Arnett said St Vincent's was visiting on average 497 people per month, adding Cranbourne was "under the pump" with calls from the community as more people were in danger of being evicted from their homes.
"We had quite a few incidences recently of people living in their cars. Just providing assistance there and assisting people to get back on their feet."
St Vincent's had also seen a 30 per cent rise in providing material aid and support delivered to people in the City of Casey and surrounding areas.
Ms Arnett said St Vincent's recently helped a Casey mother of four children who were freezing in their home.
"The call came in later on a Friday and they needed blankets and some bedding. Normally we would visit on a Monday. So a couple of people went down and saw the family, found out their circumstances, then went to Target and bought blankets.
"She was freezing. Absolutely freezing. Two of kids were very young. How could you walk away from them and leave them a whole weekend to freeze?"
Among those in need of help is Jo, of Cranbourne, who regularly uses the Vinnies soup van when it stops in Cranbourne.
Jo, who wished not be reveal her surname, has been unemployed since suffering a work injury a year ago but hopes to find a job soon.
She says if it wasn't for the Vinnies soup van "I'd be very hungry … probably sick".
"I have friends who appreciate it. They are unable to make it here so I help them out in coming here to get them food. But a lot of people are doing it hard at the moment and if they didn't have this type of service there would be a lot of suffering."
St Vincent's Southern Central Council deputy president Michael Quinn said the situation was "getting worse" with people paying up $400 a week for rent, leaving them with not much left for food expenses.
"They can't afford to feed their children. They can't afford to feed themselves."
"Parents are struggling to pay for school fees. They're struggling to send their children on school camps. They're struggling to pay for uniforms," he said.
Rising gas and electricity bills, he said, were alarming, adding "these things are going up 30 to 40 per cent," with many on the brink of homelessness.
He said all calls were assessed on a case-by-case basis and St Vincent's was committed to supporting people experiencing poverty and social isolation, face to face.
"We don't get any government funding at all. We have our stores and people can help the society by supporting our stores."
Cranbourne MP Jude Perera said the State Government had invested $799 million in housing and homelessness support, and would deliver more than 6000 social housing units.