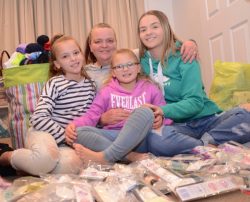 By Victoria Stone-Meadows
Narre Warren mother and charity entrepreneur Kelly Warren believes more children should be involved in charity work from young ages.
Ms Warren was an outreach worker for a national charity until about six weeks ago when she decided to strike out on her own to help homeless and vulnerable people in Melbourne.
She started the BK 2 Basics Melbourne charity that collects clothes, blankets, sleeping rolls, and personal hygiene items for Melbourne's homeless and connects them other support services.
Ms Warren's daughters, Shanleigh, 17, Kaidi, 8, and Rhyan, 9, go along with her to collect donations, make care packs and help those in need.
She said at first she wasn't sure about the girls coming along with her to the city, but found her children had really found a love of helping others.
"The girls wanted to come out with me while I was doing handouts, and I was quite hesitant in the beginning because I was new to running my own charity," she said.
"I didn't know what to expect, but we never have any trouble, and if there was the slightest hint of trouble, I wouldn't have the kids there."
The girls themselves say they really enjoy the time they spend with their mum helping others and improving the lives of vulnerable people.
"We went down to Batman Park one night, and there was a man who only has a box under a tree," eight-year-old Kaidi said.
"He was sleeping on it, so we gave him a blanket and we gave him a sleeping roll and sleeping bag, and he smiled and he said, 'thanks'."
"We are making a difference."
They said that being involved in charity work had taught them to appreciate what they had and not to judge people.
"We go to other people's houses to collect things, or they bring them to us and we sort through them," nine-year-old Rhyan said.
"We are going out and helping; working for things for other people."
"I learned to appreciate that I have a roof over my head and a home, and that I am lucky that I have a family."
"I am happy that I am helping because if we weren't there they wouldn't have clothes and would have frozen," Kaidi said.
Ms Warren said she was so proud of her children for their willingness to help others and said more children should be involved with charities to teach them about compassion and humility.
"It should be part of school with any charity like going to the RSPCA or working in rest homes and spending time with elderly," she said.
"More kids should be involved because it opens their eyes that it isn't a perfect world and there are people that struggle."
"The girls are even concerned others at their school don't have lunch and they will give their lunch away."
Ms Warren is hopeful she will be able to expand the scope of BK 2 Basics and include getting lunches at local schools and helping the homeless or vulnerable people in the City of Casey as well.
To find out more about the charity or to lend a hand, Ms Warren can be contacted via the BK 2 Basics Facebook page.