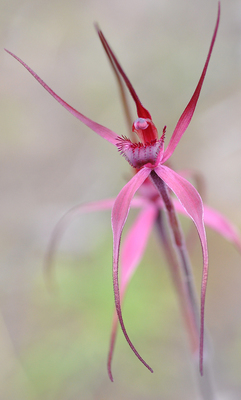 By Victoria Stone-Meadows
A vulnerable species of native orchid has been granted a second lease of life thanks to a Cranbourne-based botanist and the Victorian Royal Botanic Gardens.
Dr Noushka Reiter has propagated the seeds of the nationally threatened Elegant Spider Orchid (Caladenia Formosa) in her labs at the Cranbourne Botanic Gardens.
Dr Reiter has been working with orchids for about 10 years and runs the Orchids Conservation Program for the Royal Botanic Gardens of Victoria.
She says the work that has been put into recovering this particular flower has come to fruition as the flowers are reintroduced into the wild in regional Victoria in the coming weeks.
"The Caladenia Formosa was formerly widespread in Western Victoria and South Australia but have reduced in numbers over about the last 150-200 years due to land clearance, weeds and rabbits," she said.
"There are less than 100 of these known in the wild, but we've been working on this and four other species thanks to Landcare funding from the Federal Government."
Dr Reiter and her team have been working with the incredibly small and delicate orchid seeds, helping them to propagate in a particular type of fungi.
"We have been propagating them with mycorrhizal fungi," she said.
"All orchids are reliant upon fungi to propagate the fungi transfer carbon and various nutrients to the orchid; it works kind of like their root system."
"Orchid seeds are the smallest known plant seeds we have, so they don't have the lovely nutrient layer around them like other seeds."
"So, they get nutrients from the fungi and we allow the fungi and seed to meet so the seed can germinate."
Dr Reiter and a team of volunteers from the Australasian Native Orchid Society will be reintroducing 180 of these rare flowers into the wilds of Western Victoria.
She said there was no value anyone could place on preserving and revegetating the natural biodiversity of the Australian landscape.
"Not losing a single species is really important and we can't overvalue the biodiversity we have, and it's something worth saving for future generations."
The Australasian Native Orchid Society has been helping Dr Reiter achieve her goals for almost 10 years and Richard Thompson from the society said the level of community involvement had been a great help.
"There have been plenty of local people to come along and see what we are doing," he said.
"Quite a lot of the planting we are doing is on private land and we have found the landowners are keen to help too."
Mr Thompson said he was surprised at first to learn how interested the farmers were in helping reintroduce endangered plant species.
"I'm a city person myself, but these farmers really care about the land as long as it is not threatening their productivity, they are keen to be involved and help."
Dr Reiter and the team of volunteers will also be reintroducing of several more rare species including Thelymitra Mackibbinii (Brilliant Sun Orchid), Caladenia Colorata (Coloured Spider Orchid) and Caladenia Versicolor (Candy Spider Orchid).
The reintroduction of these orchids has been made possible through funding from the Federal Government's National Landcare Program in partnership with Parks Victoria, Trust for Nature, the WCMA and the Grampians Threatened Species Hub.