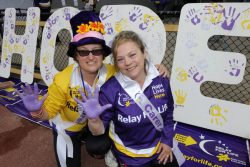 By Victoria Stone-Meadows
Are you thinking about joining or starting a relay for life team to help raise funds for the Cancer Council, but don't know where to start?
The Cranbourne-Narre Relay for Life is holding a launch night on 19 May and is inviting all established teams and any interested residents along to find out more about the event.
The launch will be far from a dry information evening and will include entertainment, food, door prizes, and interactive activities about the relay for life event.
Cranbourne-Narre Relay for Life volunteer committee member Brooke Hunter said the launch events were always informative but also a lot of fun.
"Every year our committee holds a launch event to inform teams of changes but we also hope teams will bring along people interested in joining," she said.
"A lot of people have seen but not experienced the relay, so we make these launches fun and interactive and work as a team to bring new people in."
Over the last five years, Cranbourne-Narre Relay for Life has raised $358,389 for cancer research and the 2017 fund-raising goal is set at $60,000 so the group is always looking for new participants.
"Invite your Relay for Life team and friends as the launch is guaranteed to be enjoyable and will ensure, together, we all will make Cranbourne-Narre 2017 Relay for Life a success," Ms Hunter said.
"Committee members will also be sharing their experiences with this terrible illness and encourage others to do the same in our supportive atmosphere, but this is by no means compulsory."
The Cranbourne-Narre Relay for Life launch will be held on Friday 19 May at 7.30pm at the Casey Fields Athletics Track.
The 2017 Cranbourne-Narre Relay for Life fund-raising major event is scheduled for 18 and 19 November.
Interested people who cannot attend the launch event but would still like to join the Cranbourne-Narre Relay For Life event can call 1300 65 65 85 or visit www.relayforlife.org.au.