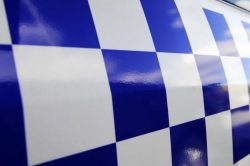 By Victoria Stone-Meadows
Two teenagers managed to flee from a group of older boys who assaulted them and stole valuable items on Saturday 11 March.
The 14-year-old from Narre Warren and 16-year-old from Oakleigh were hanging out near the freeway overpass on Magid Drive in Narre Warren when they were approached by five older teenagers.
The older teenagers struck a conversation by offering to buy drugs from the younger pair and then assaulted them and stole their mobile phones and wallets.
The pair fled with minor injuries and later alerted police about what had happened.
The alleged offenders ranged between 15 and 20 years of age, with one of Maori appearance, three Caucasians and the other dark-skinned.
The Maori was described as having a large build with dark hair and likened to "Krusty the Clown" from The Simpsons.
The Caucasian males were described as having blond hair, and the group were wearing black hoodies at the time.
Anyone with information regarding this incident is urged to contact Crime Stoppers on 1800 333 000, or submit a confidential report at www.crimestoppersvic.com.au.