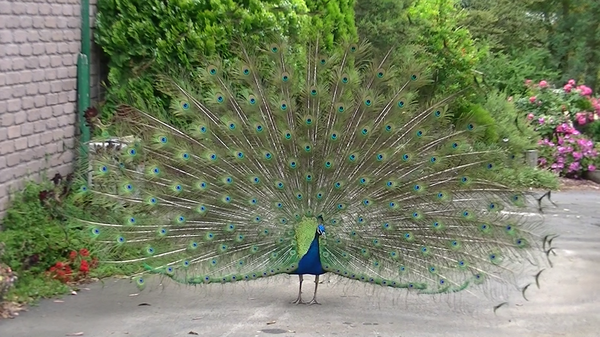 By Victoria Stone-Meadows
Cannons Creek's resident Peacock Andrew has settled well into his new home in Cranbourne South, according to Nigel Williamson of Nigel's Animal Rescue.
The peacock was captured in a stress-free operation in a garage in Cannons Creek on 15 November 2016 and transported to his new home less than 15 minutes away.
Andrew the Peacock was a permanent resident of Cannons Creek for about seven years, and no one seems to know where he came from.
However, City of Casey council received a number of complaints about Andrew late last year and Nigel's Animal Rescue was given the task of moving Andrew out of the town.
"I was the one that caught him; it was the easiest capture imaginable," Mr Williamson said.
"It was completely stress-free; he had walked into a garage, so I closed the door, put a net over him, wrapped in a blanket and 12 minutes later he was released at the new property."
"It all happened quickly and smoothly."
Mr Williamson said the bird behaved very well during transportation and loves his new digs.
"He's settled in well and he has got his harem of about three to four hens that he needs," Mr Williamson said.
"He is the oldest one in the group, and while nobody knows his real age he has the longest tail feathers and that's how you can tell."
"He is the king of the group, so I am sure he is very happy now."
The property Andrew the Peacock has been moved to has a range of other birds including geese, ducks, pigeons and chickens on the 10 acres as well as five dams.