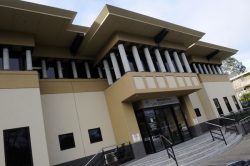 By Cam Lucadou-Wells
A man charged with trafficking after being allegedly intercepted in a stolen vehicle with meth, GHB and ecstasy at a Pearcedale car park has been described as a "mobile one-man drug warehouse".
Brent William Ross, 23, of Mordialloc, indicated he would deny the drug charges and was granted bail at Dandenong Magistrates' Court on 13 February.
The court heard Ross allegedly gave a false name and address to police after his vehicle with home-made number plates was followed into Pearcedale Recreation Reserve just after 1.15am on 6 January.
He then fled on foot towards Baxter-Tooradin Road, at one stage throwing a bum-bag into the legs of a pursuing police officer, but was soon arrested, police alleged.
Police found drug paraphernalia and a flick-knife in the bum-bag, and discovered the car had been stolen from St Kilda in December.
In a sports bag on the car's back seat, there was a large quantity of drugs and deal bags, informant Acting Sergeant Nick Buxton told the court.
Police seized what was believed to be 56 grams of methamphetamine, 12 plastic containers of GHB and 118 ecstasy tablets, though the substances had not been forensically analysed, Sgt Buxton said.
The minimum trafficable amount of 'ice' is three grams, he said.
Tick-books listing names, contact details and drug and monetary quantities, a serrated kitchen knife next to the front seat and a lap-top bag containing the vehicle's rightful numberplates were also found.
At an interview at Narre Warren police station, Ross denied possessing the drugs and claimed police just found the bum-bag on the road.
The GHB containers looked like "bubbles", he told police.
As for the meth, "you didn't pull that out of my car" and "they weren't in my car or in my possession", he allegedly said.
Ross's lawyer said his client had surrendered to police by kneeling down and putting his hands to his head in the car park, didn't recall throwing the bum-bag and made no admissions to possessing the drugs or the knife.
Magistrate Gerard Bryant said Ross faced a "strong" prosecution case given the material found in the vehicle.
"The reality is if you were to compile a list of the accoutrement of someone who was usually trafficking drugs, he ticks most of the boxes.
"He's got a knife because he's dealing and doesn't want to be rolled by the people he's dealing with.
"He's a mobile one-man drug warehouse. That's what he is."
In granting bail, Mr Bryant took into account that Ross might not be sentenced to jail due to his youth and clean criminal record.
"Courts will recognise young people sometimes lose their way in the fog of drugs, that there might be more utility to rehabilitate you than punish you at this juncture of life.
"You are at the cross-roads. If you make the wrong choice (on bail), you're looking at a significant custodial sentence in the realms of 12 months or possibly more."
Ross was bailed on the rehabilitative CISP program to a relative's address outside greater Melbourne.
His bail conditions include a night curfew, thrice-weekly reporting to police, twice-weekly drug screens, a $2000 surety and a ban from driving.
He will next appear for mention at Frankston Magistrates' Court on 14 March.