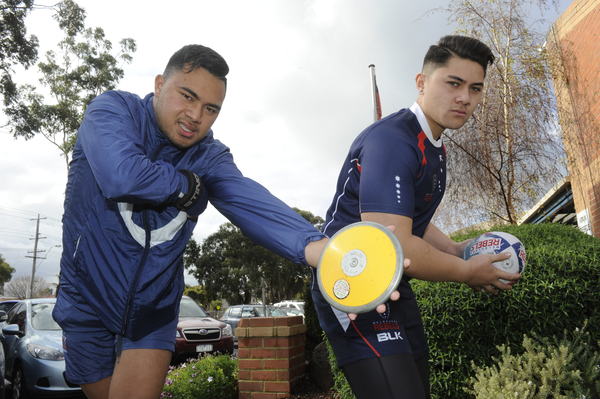 By CAM LUCADOU-WELLS
REMEMBER the names of these two budding sports stars from Hampton Park Secondary College.
Alefosio "Sio" Laki and Jacob Tavae, both of Hampton Park, are set to compete in their chosen sports overseas this year.
In Sio's case, deciding upon his favourite sport is difficult.
The 18-year-old ambulant para-athlete has represented Samoa in in the 100 metre sprint and javelin at the Pacifica Games in Port Moresby, as well as winning bronze for discus at Australian junior championships.
In state junior track and field championships this year, Sio won gold in the discus and shotput events.
He is ranked 27th in the world for discus in his para-athletic category F37.
Sio has been selected in the Samoan squad to throw discus at world para-athletic championships in Doha in October.
He hopes to qualify for the Rio de Janeiro Paralympics next year.
He is training five days a week at Casey Fields, with the aim of lifting his personal best discus throw from 40 metres to 50 metres – which would put him in the mix with the best in the world.
"I've just got to get my body stronger," he says.
Jacob meanwhile is heading for an U16 Victorian schools team rugby tour of Ireland, the UK, Belgium and France.
Due to health issues in his family, Jacob didn't get seriously into the sport until high school.
Since then he's played for the state and broken through into the Melbourne Rebels' underage teams and Endeavour Hills Eagles.
Jacob, a sprightly runner who plays inside-centre and wing, hopes to win a place on the Rebels' Super Rugby side.
He says the game has provided "amazing opportunities" for his family already.
"Rugby is my passion," the Year 11 student says.
"I have a full commitment to my training, both on and off the field.
"It has allowed me to take part in events I had not thought possible before."
Sio is fund-raising several thousand dollars to compete in Doha in October.
To donate, go to his Sio to Doha 2015 and Rio 2016 'gofundme' website at http://www.gofundme.com/f72afk4k.