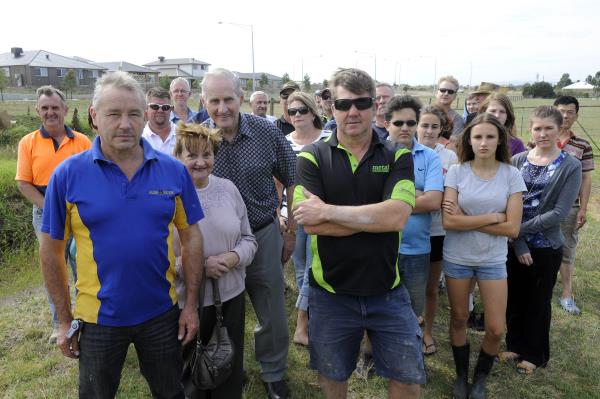 By BRIDGET SCOTT
Dead-end estate says development delays go on and on…
RESIDENTS of a Cranbourne community say they feel like outcasts and that their estate has been left severely underdeveloped.
The Collison Estate's Bob Vawdrey said the area is a thorn in City of Casey's side.
"Nobody wants to make a decision," said the resident of 40 years.
"It was beautiful when we first came here, but I don't like it now."
"It's got lots of undesirable elements."
The Cranbourne East resident said he is contemplating a move out of the area.
Residents Eileen and Ron Vorback, who have been there nearly just as long, have decided to move houses because their large block is too big to maintain.
City of Casey councillor Amanda Stapledon tabled a petition at a council meeting this month with 51 signatures from residents in the estate.
In it residents called for the area's precinct structure plan to be resumed in order to create some certainty about the area's future.
However councillor Gary Rowe put forward a rescission motion in response to the petition which was carried.
Concerned residents say that the rescission motion would mean no works would be carried out until August.
Councillor Stapledon said people in the estate "feel differently about their future" and said to do nothing would be a "travesty".
Manager of Strategic Development at Casey council David Wilkinson said that the council requested the former Growth Areas Authority (GAA) to include Collison Estate in the Cranbourne East Precinct Structure Plan (PSP), but the GAA did not do so.
"Council was disappointed that the GAA, now the Metropolitan Planning Authority, denied responsibility for implementing and integrating the planning of the Collison Estate with the wider Cranbourne East PSP area," he said.
He also added that the 17 February council resolution is now the subject of a motion to rescind that will be considered at the next council meeting.
"If work is recommenced there will be consultation at the appropriate times during the development of the PSP for the estate," Mr Wilkinson said.
In August 2014, the council resolved to cease strategic work on the Collison Estate.
Cr Stapledon said it was important to consult with residents to find a way forward.
The area has also been zoned urban growth which has left some residents with their hands tied.
Steve Peter, a resident of Narre Warren, has a huge block along Mayfield Road, but is unable to build on it due to the zoning of the area. ??????
"We can't build here," he said.
Fellow resident Graham Smith has encouraged the council to finish off the PSP for the area, and allow residents to have their say on its future.
"There were a lot of people disappointed last August when the PSP was stopped," he said.
"For the last 14 years, we have been trying to get some sort of services to the Collison Estate.
"It just goes on and on."
As well as unmade roads, there is no proper drainage system and some houses are also without internet.
It was also suggested at the council meeting this month that the area has become subject to 'planning blight' because properties get run down and residents aren't prepared to make a financial investment.