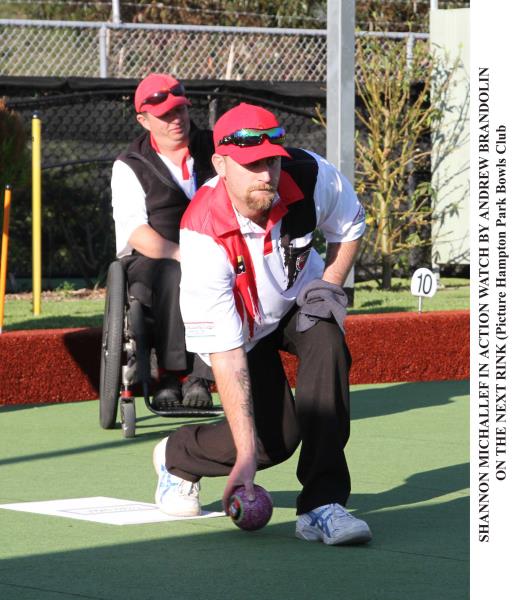 HAMPTON PARK BOWLS
HALF way through the season Hampton Park has two teams in the top four of their divisions while two more are knocking at the door.
Saturday's Division 2 team consolidated their top-three spot with a strong win over Burden Park at home. Mort Smith, Neville Hendrie, Sean McDonald and Ken Cobden drew 21-21, as did Shane Hardy, Mark Paton, Ian Bartlett and Larry Simpson 22-22. Winning rinks were Geoff Ampt, John Nunan, Shannon Micallef and Shane Collins 26-18 with Steve Barnes, Chris Hendrie, Andrew Brandolin and Warwick Hardy turning around two close losses to win 32-9.
Result: Hampton Park (1) 16-101 d Burden Park (2) 2-70.
Division 4 was at Keysborough to play Dandenong RSL/Rec. and they lost a close one by only one shot.
The winning rinks were Aaron Ottaway, Stan Hatch, Denise Eastick and Helen Lambert 27-15, and Chris Barnes, Ellen Smith, Lionel Williams and Peter Hayden 25-10. Heather Naismith, John Wright, Geoff Ladner and Rob Woff lost 14-28 while Ron Beverly, Richard Pallet, Jos Van Hout and Jim Westwell also lost 11-25.
Result: Dandenong RSL/Rec 14-78 d Hampton Park (2) 4-77.
Division 6 had a monumental task on the deadly synthetic at SOC in Oakleigh South. Vince Kovacic, Gavin Wilson, Brian Diaper and Ray Wood won 20-13. Gerry Cox, Trevor Harbright, Bob Nicol and Ian Kitt lost 18-28, Jen Sherry, Janice Collins, Bill Webb and Bill Holden lost 11-34 and Lou Soligo, Keith Damon, Kaye Goold and Marion Battaglia lost 12-42.
Result: SOC 16-127 d Hampton Park (3) 2-61.
Division 8 needed two subs from Narre Warren to make the numbers, but were not good enough against Cranbourne RSL.
Dot Carr, N. Milken (sub), Ann Westwell and Gwen Clough lost 11-30, and H. McCarthy (sub), June Damon and Rudi Oost lost 7.5 – 26. They lost 25 per cent of their score due to only playing with three players.
Result: to Cranbourne RSL (4) 14 – 56 d Hampton park (4) 0 – 18.8.