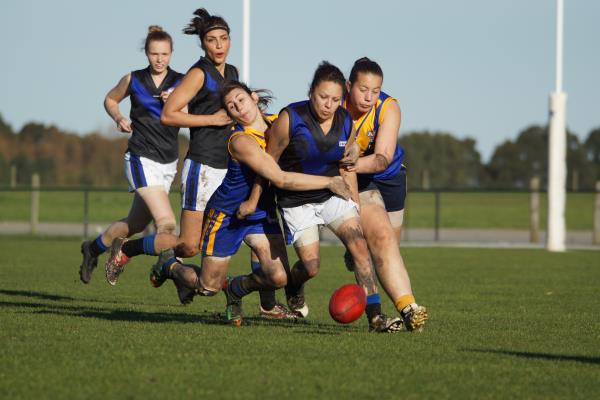 By JARROD POTTER
Victorian Women's Football League
ONLY within the realm of theoretical chances can Cranbourne's VWFL team make the finals after a disappointing 30-point loss to Melbourne University.
University gave a midfield education to the Eagles – running hard and dishing off better possessions to leave Cranbourne one step behind at every encounter to run out 30 points in arrears of the MUGARs.
A pair of Kirsten Mcleod goals kept her at the pinnacle of the Division-1 goal kicking with 24 majors while Kerry Anderson jagged the only other Cranbourne goal for the afternoon.
Few Eagles impressed Cranbourne coach Shaun Smith – with only a few of his younger brigade earning his praise.
"Gee Fisher was outstanding – she was our best player by far," Smith said.
"Even young Hutchy (Lauren Hutchison) and Woody (Brittany Wood) on the back-line.
"They just have a go and that's all I can ask… young Houda (Sidani) had a crack on the wing and was lively, but obviously we need just a bit more experience in our team… fitness as well, so I'm looking forward to pre-season."
Sitting in sixth place – a game outside the final four – Cranbourne will need at minimum to beat Diamond Creek this week at home and Eastern Devils away in the last game of the season and hope for double-losses for Darebin and Eastern Devils. Smith is taking either result in his stride – a finals' berth is great but there's a bigger picture to look at.
"If we win the next two we can theoretically make it, but there are so many connotations that need to happen so it's probably over," Smith said.
"We can hold onto it til the last death knell, but we're not holding our breath.
"If we get in it's a bonus but we have to win our next two games – it is as simple as that."
Cranbourne hosts Diamond Creek on Sunday from 2pm.
Hallam and Cranbourne Division 3/4 teams will play their last match of the home-and-away season following losses to Deer Park and Montmorency respectively.