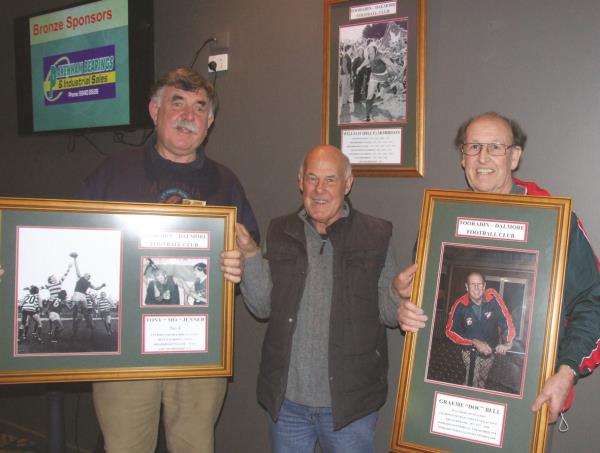 IF ONLY these walls could talk.
Tooradin-Dalmore Football Club stalwarts Tony 'Mo' Jenner and Graeme 'Doc' Bell were inducted to the club Legends' Wall at the Tooradin Sports Club on Saturday.
The long-serving pair joins four-time premiership coach, Bill Morrison, as the first of three inductees onto the wall, which reflects on the long and proud history of a club that won its first premiership 100 years ago in 1914.
Club president, Derek Genoni, said the honour bestowed upon the pair was well deserved.
"Tony holds the club record for most games played, with 327, he was best and fairest three times and was awarded life membership in 1976," Genoni said.
"Doc didn't play as many games but has been a great contributor to club affairs, serving as treasurer for 40 years.
"He was chairman of selectors for both the club and league and made a life member in 1978, and was also made a life member of the Tooradin Sports Club in 2008."
Jenner and Bell join esteemed company, with Morrison leading the club to premiership wins in 1970, '71, '72 and '75 and playing in the 1977 premiership side.
He won three league best and fairest awards, in '71, '72, and '74 and was a four-timer club best and fairest winner. He is also a past-president and was made a life member in 1989.