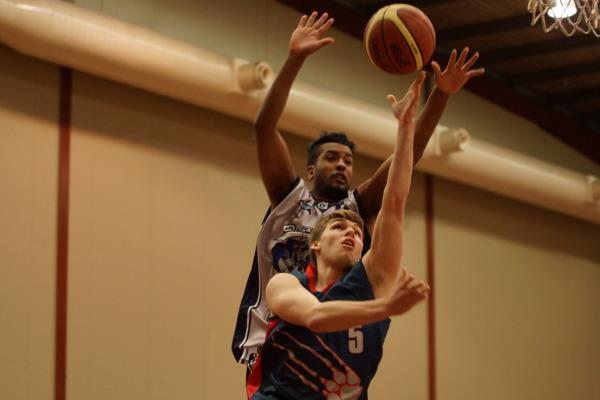 By JARROD POTTER
THE younger Cavaliers men could not overcome Keysborough on Sunday afternoon, downed 66-92 in the BIG V Youth Men 2 semi-final.
The Cougars' tall towers Ben Morwood (19 points, 8 rebounds) and Matt Walker (16 points) made it difficult for Casey to match pace, but the stellar efforts of Sean Mckinnon and Ryan Sinclair defensively held Keysborough down.
The Cougars emerged in the second half to unleash on the Cavaliers and Phil Thomas' men could not match patch with the nimble Cougars down the stretch – as Keysborough hit 47 to 35 in the final half.
Casey Cavaliers Youth Men coach Phil Thomas said his undersized Cavaliers battled bravely and improved on the problem areas that let them down in previous matches against the cross-city rivals.
"They were a little big for us, but it was pleasing and certainly better than the previous two times we played them," Thomas said.
"We won the rebound count so it wasn't completely one-sided and we moved the ball better and were a bit more aggressive than the last couple of times, but defensively we didn't stop them doing the same as well."
The coach praised the consistency of Sean Mckinnon (18 points, 12 rebounds), captain Aaron Bower (8 points) and Ryan Sinclair (13 points) – doing a good job on Keysborough's rampaging guard/forward Staci Richardson.
Nathan Dodgson (7 rebounds, 2 blocks) was one of the many Casey juniors to show the next generation of Cavaliers is coming through the ranks in a promising way.
"Nathan is one of our under-20s players and a development player – we rotate those boys through the team – we were trying to find something different… he was really aggressive defensively… he's still learning but has improved out of sight," Thomas said.
Casey finished the regular season in fourth with a 12-6 record and the coach believed improvement could be found in plenty of places over its 2013 lower ranking.
"We improved out of sight from the group last season – we were ninth in every category and ninth on the ladder – so to come fourth and we were the best defensive team this season was very pleasing and seeing some guys improve from last year is a positive as well."
The grand final will be between Keysborough and Coburg on Saturday night.