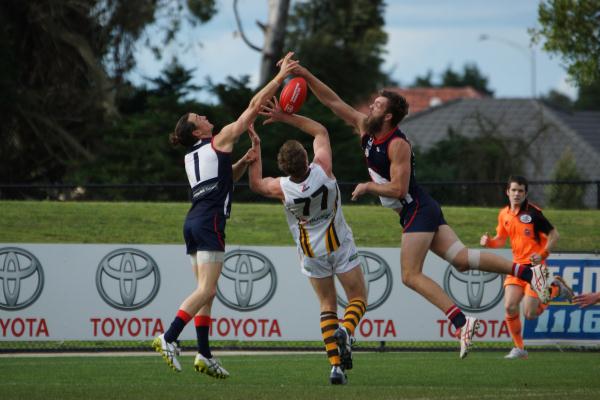 By JARROD POTTER
VICTORIAN FOOTBALL LEAGUE
REVIEW – ROUND 11
BOX HILL belted Casey by 85 points following a late 10-goal surge.
The Scorpions had fought through the first three quarters to curtail the reigning VFL premier and ladder leading Hawks – who were boosted even further by the inclusion of AFL players Ben McEvoy, Ben Stratton and Jonathan Simpkin.
McEvoy took to the VFL with aplomb showing no signs of the hamstring injury that left him out of the AFL ranks for the last three weeks as he bagged five goals and excelled through the goal and centre squares.
Limited forward line options restricted the Scorpions, leaving Jack Fitzpatrick the best scorer with a pair of goals.
Early wasteful kicking and undisciplined free kicks were highlighted by Casey coach Rohan Welsh at the quarter-time huddle.
"If we pick smarter options coming out of half back into our forward line, that will fix a lot of the problems so far I reckon, so we've got to be more efficient by foot when we go forward," Welsh urged his team.
"Silly free kicks and silly 50-metre penalties cost us – three 50m penalties into this wind has cost us a little bit so we've got to make sure we get them back."
Casey Fields' notoriously wind-ravaged Berwick-Cranbourne Road end paid the Scorpions no favours as the Scorpions could only muster four behinds bearing in that direction.
Fighting back after half time, Casey's third term produced four goals in a row before the true might of the Hawks reverberated around the ground.
The last 10 goals belonged to Box Hill as McEvoy and Sam Cust (4 goals) seized upon Casey's crumbling defence.
Casey's prime performers were Viv Michie, earning 30 possessions and closing in on another AFL berth, Demons' emergency Sam Blease (28 touches), Daniel Nicholson (25), and Max Gawn (24).
The loss leaves Casey 13th on the VFL ladder and three games removed from the top eight. A drastic turnaround will need to start this weekend against Williamstown at home for the Scorpions to stand any chance of qualifying for finals.
VFL SCOREBOARD
CASEY SCORPIONS 2.0 2.2 6.6 6.8 (44)
BOX HILL HAWKS 3.4 7.10 10.11 19.15 (129)
CASEY
GOALS: J. Fitzpatrick 2, T. Smith, M. Evans, N. Page, J. Toumpas.
BEST: V. Michie, A. Georgiou, D. Barry, D. Nicholson, S. Blease, E. Panozza.
BOX HILL
GOALS: B. McEvoy 5, S. Cust 4, J. Kelly 2, D. Willsmore 2, J. Simpkin, W. Langford, M. O'Donnell, S. Iles, S. Grimley, M. Hallahan.
BEST: B. McEvoy, M. Lock, A. Woodward, J. Simpkin, S. Cust, J. Kelly.