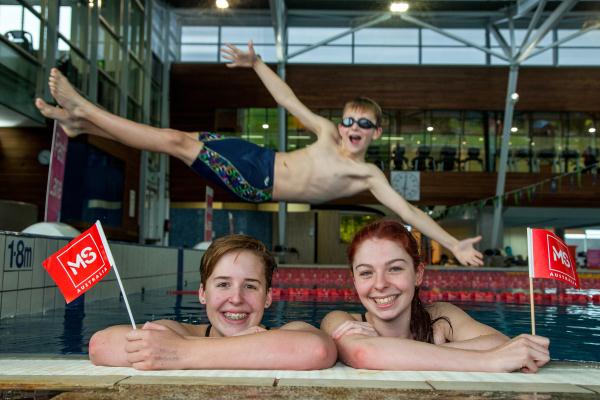 By BRIDGET COOK
MORE than 80 swimmers will dive in to make a difference to people living with multiple sclerosis at Casey RACE next weekend.
The 24 MS Mega Swim challenge will take place at the Cranbourne pool on Saturday 5 and Sunday 6 July.
There are currently seven teams signed up for the challenge, which requires one person from a team to be in the pool swimming at all times for a 24 hour period.
It is not too late for swimmers to register to take part in the challenge and organisers can place people in a team if they can't get one together.
Fiona Stewart, 18, is the team captain of the Electric Eels.
She has rallied a team of competitive swimmers together from local swim club Tiger Sharks, surf lifesaving clubs, Mornington Peninsula Flyers Swim Club and local secondary school students.
"I am using the MS 24 Hour Mega Swim not only as a way to kick off my own training for the upcoming swim season but as an opportunity to support a great cause," she said.
"The Eels is a bunch of swimmers I have met from the swimming community and we are switching our competitive nature against one another to our fundraising.
"Our goal is to raise $7500 this year.
"We have as a starting point a 'guess the number of laps competition'.
"Last year my team swam 10 kilometres however this year we have a team of all abilities and all ages, our youngest swimmer aged 10."
Fiona has swum all three MS 24 Hour Mega Swims hosted at Casey RACE and has currently raised more than $400, with the team raising $1198 towards the event fundraising goal of $25,000.
Funds raised from the event support the MS Go for Gold Scholarship program.
The program aims to provide people living with MS in Victoria, New South Wales and the Australian Capital Territory an opportunity to fulfil their potential in life by pursuing aspirations in the fields of employment, sport, travel, education or the arts.
Funds also go towards financial support programs and services to benefit people living with MS.
It's not too late to register or donate to the event and people can do so by visiting msmegaswim.org.au or calling 1300 705 341.